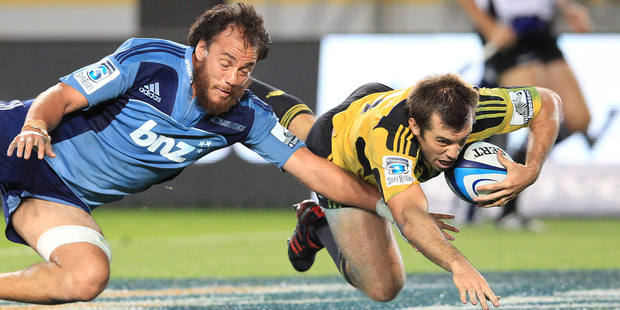 Since George Gregan became the first to play 100 games of Super rugby, more than 80 others have gone past the mark.
The granddaddy of them all is Nathan Sharpe, who suited up for 162 games for the Reds and Force, with Keven Mealamu battling more calf issues as he sits second on 153 appearances for the Chiefs and Blues.
In the latest round three more players join the select ton-up team with Tanerau Latimer and Jean de Villiers last night in Hamilton and Conrad Smith this evening with the Hurricanes.
They are three men of great integrity who have put team needs as a priority in their sporting careers and have accumulated personal success on that journey.
Latimer is the least capped as he has worked through a career which has run parallel to the magnificent Richie McCaw. Latimer played four tests for the All Blacks and is a leader within the NZ Maori side.
That mana extends to his role within the Chiefs where his standing in the game, his rugged work ethic and open personality is guaranteed fibre within the group. He is chased from provincial to Super level by Sam Cane and while he covets a start in every match, Latimer understands the team ethos behind job-sharing.
De Villiers and Smith are similar rugby beasts, highly intelligent individuals whose potpourri of skills have put them at the head of the world order in their midfield roles.
It is no coincidence that they both play centre where they need to be expertly proficient in a multitude of skills.
Their leadership is acknowledged by their Stormers and Hurricanes teams while from what you hear on the field and even in the immediate emotional tumult of television interviews afterwards, that direction shows out.
Not only do they have to be on the same wavelength as their teammates, they also have to switch on to the variable rulings of referees. They need to know when and how to question the men with the whistle.
It's no good being bolshie, the men in white or pink uniforms don't react well to that sort of belligerence.
Making sure teammates know what is happening and what is expected are all issues for the captain while de Villiers also carries that responsibility into the test arena where he leads the Springboks.
He is 33 and nearing 100 caps for the Boks while Smith is 32 and has played 75 tests for the All Blacks. Do both have another World Cup in them?
That's some way in the distance but for now we should applaud three men who have dignified Super rugby with their work and honoured themselves with their character.