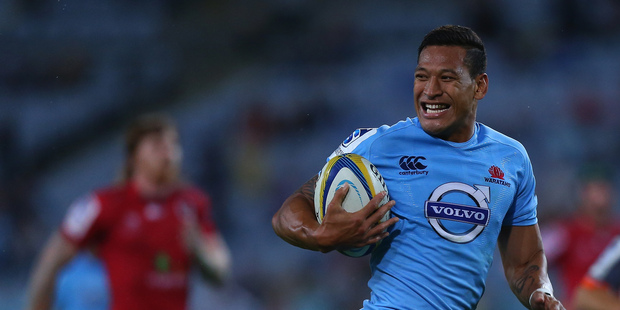 Just a year ago the Brumbies went into their blockbuster derby against the Waratahs intent on exploiting the defence of a rookie named Israel Folau. How the tables have turned.
Fast forward and the Brumbies' focus on Folau is now centred on how they'll defensively contain the devastating try-scoring machine in Canberra tomorrow night.
After a stellar debut year, the Waratahs' No15 has had an emphatic start to the 2014 Super Rugby season with five tries from just two games.
Teams tend to avoid publicly discussing individual opponents at length in the lead-up to big matches because there are 14 other players on the paddock who can do just as much damage if neglected.
But when it comes to Folau, well, he seems to be an exception.
"Last year he was a very dangerous attacker ... but it was just defensively where he was a little lacking," Brumbies head coach Stephen Larkham said.
"When he first started his positional play was the biggest element that was not up to scratch.
"Over the last year he has worked really hard on that, he understands the game well now."
Larkham says his side has discussed how they will stifle the impact of Folau, in particular his strong ability to counter-attack.
"What he has shown over the last year particularly is his ability to beat a man one on one, so we've really focused on that in terms of our kick-chase line," Larkham said.
The winner of the clash between the traditional grudge rivals will lead the Australian conference.
- AAP