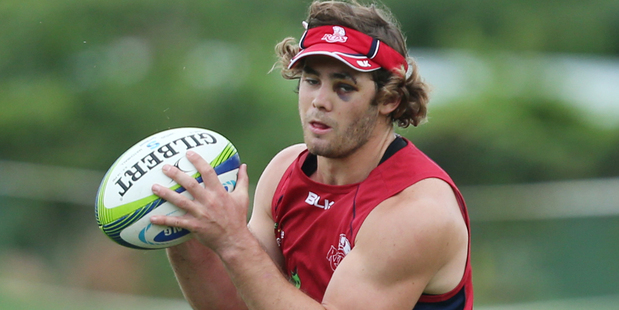 Battle-scarred Queensland flanker Liam Gill has been cleared for this weekend's test of character for the Reds' pack against the Super Rugby-leading Sharks.
Gill has a cut and major swelling around his eye following a head clash with fellow back-rower Ed Quirk in the 43-33 win over the Cheetahs which had him in doubt for the start of the Reds' South African safari.
While the 21-year-old admitted Quirk's friendly fire hadn't helped his looks, the in-form Wallaby is on board for Queensland's huge challenge at Kings Park.
"As ugly as it looks, the eye has actually pulled up all right," he said from Durban.
"It's all clear to play and everything is all good with it."
It's a major boost for the Reds as Gill has been their most influential forward in their opening three matches and they'll need him to be at his best against the bruising Sharks pack on Sunday morning.
Former Brumbies coach Jake White's new team have brushed aside the Bulls, Hurricanes and Lions with an abrasive power game.
With huge Springbok forwards Bismarck and Jannie du Plessis, Tendai Mtawarira, Willem Alberts and Ryan Kankowski, the Sharks will again aim to overpower Queensland, who are one of the smaller packs in the competition.
"We expect them to really come at us," Gill said. "But we're very excited about it."
Reds forwards coach Nick Stiles has worked hard on improving technical aspects at the set-piece and a pack mentality and their extra mobility will be keys to combating the Sharks' size.
-AAP