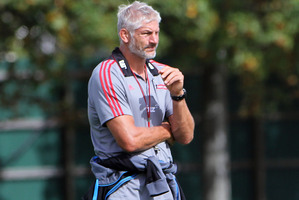 Amid the chat about who would feel the selection blade for the Crusaders, Israel Dagg's demotion was not on the radar after the opening Super Rugby round.
The All Black fullback had a varied start against the Chiefs but the focus was on others like Tyler Bleyendaal who were in line to feel the selection displeasure of coach Todd Blackadder.
However, Dagg has made way for former All Black Colin Slade who has recovered from a bruised calf while Tom Taylor has been reinstated to start at first five-eighths. Captain Kieran Read returns to start at No 8 and Richie McCaw has overcome his sore calf to play on the openside.
Last year, Blackadder persevered with Dagg's modest form until round 12 against the Brumbies when he dropped the fullback to the bench. He had lacked much spark for several games and when his defence also withered, so did Blackadder's patience.
While Blackadder promised a new and harder edge to the Crusaders this season, his dramatic reaction after the opening 18-10 loss to the Chiefs will have surprised most rugby watchers.
However, Dagg lost the ball in possession several times and did not bring any great impetus from the back.
Dagg has been slow to boil in recent Super 15 seasons although the All Black selectors have not dithered about picking him and reviving his standards. The 25-year-old Dagg has played 38 tests and 69 games of Super Rugby.
He joined the Crusaders from the Highlanders in 2011 but has struggled to deliver a run of quality performances during his term, one which has him off-contract at the end of this series.
In the 2013 campaign, Blackadder gave his fullback some prolonged selection leniency but got scant reward. His tolerance expired after another of Dagg's inconsistent games against the Rebels when he failed to get enough basic work done.
It was not a tough decision, Blackadder said, it was just made on form. His All Black fullback had not completed the simple rugby basics well enough.
The coach left that gnarly message until the Crusaders were deep into their season. Dagg responded strongly and had much form before starting 13 of the All Blacks' 14 tests last year.
Blackadder will hope to provoke a similar response but much earlier this time as the Crusaders search for a first title since Blackadder took charge in 2009.