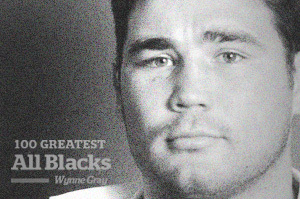 Craig Dowd was a huge man and a rare prop with the ability to compete with the best on either side of the scrum.
For most of his early All Black career he was at loosehead alongside his Auckland teammates Sean Fitzpatrick and Olo Brown but switched sides when Brown fell to injury.
Dowd came from an unfashionable rugby background at Liston College but his size and ability kept him on an upward sporting curve.
Listen to some of the old sweats and they would tell you how Dowd had refined his techniques and built on his natural power to become a very impressive international prop. All the apprentice work Dowd, Fitzpatrick and Brown did with Auckland was a great basis for their test matches.
They could try ideas at provincial level, test theories with their coaches to see if they could make even more headway when they were selected for the international programme.
If Fitzy was the ebullient character and Brown the recluse, Dowd was somewhere in between. He liked to challenge reporters who asked any dodgy questions or appeared diffident with their inquiries.
He would stare at you with a testing look often accompanied by an 'are you sure' inquiry.
Some called him Jethro after one of the characters in the Beverly Hillbillies but that option was usually left to his tight five mates or some of similar physique.
His rugby done in New Zealand and England, Dowd turned his interest to coaching and latterly to some television broadcasting work.
BACK TO WYNNE GRAY'S 100 GREATEST ALL BLACKS
Statistics
Date of birth: 26 October 1969
Position: Looshead prop
Matches: 67
Tests: 60
Test debut: 2 June 1993 v British & Irish Lions, Christchurch
Final test: 5 August 2000 v Australia, Wellington
Province: Auckland
Test tries: 2
Test points: 10