Super Rugby is back, and so is the chance for fans to clock up their own big scores.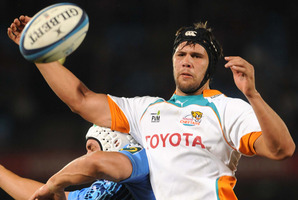 Just like that, it seems, the first round of Super rugby is upon us. For many New Zealand sports lovers, it's time to say goodbye to the lip service they pay to other codes - the real action has begun.
And hand in hand with that fandom comes Dream Team Fantasy Super Rugby - where we predict which players will fill the stats sheets each week and compare our spoils to those of our friends and, this year, to those of luminaries such as Richard Loe and Justin Marshall.
If the careers of those two are any indication, Loe will stack his team with aggressive but card and suspension-happy selections such as Ma'a Nonu and Jarred Hoeata, while Marshall will possibly lean towards over-rated Crusaders such as Zac Guildford and Corey Flynn.
The addition of celebrity competitors to the Fantasy game is one of many great improvements this year.
The new subs bench adds a lot of value, I love the removal of team results from players' fantasy scores so players from bad sides can still carry value, I love the addition of line breaks as a stat and I love having the chance to win that ridiculous first place prize.
To be in the running for this huge prize, one has to plan ahead and that planning must begin in week one. This week has only two fixtures, both in South Africa. I would recommend selecting your team with four extra players from the Sharks, Bulls, Cheetahs and Lions. You then have the option of swapping them out next week for more-preferred selections.
But there is plenty of value to be found in these squads - the underrated Cheetahs back row performed well last year, and they face the newly-promoted Lions who look like soft opponents at this stage.
Keep an eye on team announcements but see the box above for my players to target and avoid for week one.

Target
• Pieter Labuschagne, Cheetahs
Great last year; set for bigger year as Heinrich Brussow struggles with injury.
• Philip van der Walt, Cheetahs
New stats in game should help reward his big offensive ability.
• Johan Goosen, Cheetahs
The Springbok first five should have plenty of chances with the boot in this one.
Avoid
• Arno Botha, Bulls
Suffered season-ending injury in pre-season clash.
• All playing halfbacks
The least profitable position in the game. Just pick up Tawera Kerr-Barlow and keep him for week two.

Your chance to tackle experts
Want to prove yourself against the rugby experts?
• You can join the expert public league and play against the experts from Herald Rugby and Radio Sport.
• To join the expert public league you have to register at dreamteam.co.nz
(if you have not already) and be in to the game.
• Click "play now" and then click on the "The Experts Leaderboard" in the navigation bar. Each week you'll be able to see how you are performing against the likes of Justin Marshall, Andrew Mulligan and Richard Loe.
• Also competing against the experts will be the Colonel from KFC who is being represented by a mystery player.