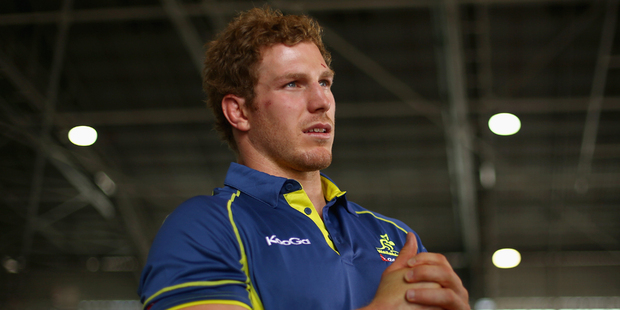 He's regarded as one of the top physical specimens in Australian sport, but when star Wallabies flanker David Pocock arrived at the Brumbies his body was "a bit of a mess" for rugby purposes, says head coach Stephen Larkham.
After seven seasons with the Western Force, Pocock completed just two Super Rugby games with the Brumbies in 2013 before suffering a serious knee injury against the Waratahs which ended his season.
While a knee injury can happen to anyone, Larkham says Pocock had been "strong in the wrong areas" - referring to the 25-year-old's colossal upper body strength that earned him the nickname Bam Bam amongst his team mates.
He said Pocock has spent the last 11 months in the Brumbies' recovery unit not just rehabilitating his knee, but his entire core strength and lower body to become an even more effective No.7.
"When he got here to the Brumbies a couple of years ago his body was a bit of a mess, I'd have to say honestly," Larkham said.
"The staff, the physios here and the doctors have genuinely rebuilt him now, and everything's working a lot better than it was.
"He's well and truly past the point of being ready to play. That's what we need - a David Pocock who is extremely confident out there because he is one of the world's best."
The outlook is promising for Pocock after showing no signs of the injury in his first two games back.
The No.7 earned high praise from Brumbies captain Ben Mowen following Saturday's 67-0 win against the ACT XV with a performance that indicated he's not too far away from his ball-thief best.
Advertisement
"It was hard not to keep an eye on him (during the game) because he was turning over so much ball," Mowen said.
"I thought he was back to where he's been at international standard."
Pocock says he's feeling good and looking forward to his side's Super Rugby season opener against the Queensland Reds on February 22.
"You can do as much training as you want, but getting match fitness and work in games is the difference," Pocock said.
"It's good to be back out there."