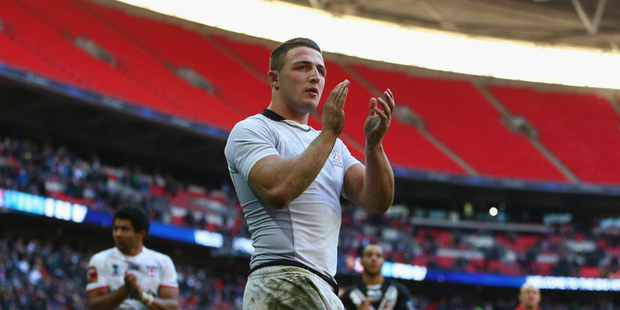 Sam Burgess. Photo / Getty Images.
Sam Burgess' NRL performances last season were often weighed up against those of Sonny Bill Williams and their rivalry appears set to extend beyond rugby league and into the 15-a-side code.
Speculation that Burgess is poised for an end-of-season switch to rugby union intensified yesterday when the UK's Daily Mail reported the South Sydney forward had accepted a three-year deal with an English rugby club, believed to be Bath, in the hope of playing at the 2015 Rugby World Cup.
The Rabbitohs subsequently released a statement to club members saying they had not been approached by any party to release Burgess from his contract which runs until the end of 2016.
"The club has had no contact from Sam's management, the Rugby Football Union (RFU) or any rugby union clubs in the UK regarding a release for Sam Burgess from his NRL contract with the Rabbitohs,'' the statement read.
However, Souths owner Russell Crowe, who recruited Burgess to play at Redfern, is believed to be aware of an approach.
Either way, opinion is divided over how Burgess, potentially playing in the centres like Sonny Bill, would fare in rugby.
NSW Waratahs coach Michael Cheika, who spent eight years coaching in Europe, said he believed Burgess could be a success.
"He's a pretty competitive type of guy - he's a big, athletic player. The basics of the game are relatively the same and he's still young. I'm sure he'll go well if he does make the move,'' said Cheika on Thursday.
Waratahs five-eighth Bernard Foley wasn't so sure.
"It's not as easy as everyone says to switch codes,'' he said.
"For a bloke like Sam Burgess he's a great athlete and I'm sure he'll have a really good crack at it but I don't think it's as easy as everyone says to swap over and just go in for a World Cup.
"Especially going into an England side that's been preparing for the last couple of years and looking pretty stable.''
Burgess and Williams famously locked horns in the New Zealand dual international's return to rugby league for the Sydney Roosters in round one in March last year.
But in playing a leading role in the Roosters' surge to the minor premiership and the NRL title, SBW undoubtedly ended up on top.
Rugby World Cup winner Williams has proven himself in the code he will return to in 2015 for two seasons, with the overwhelming desire to also play in rugby's showpiece event.
But big Englishman Burgess is an unknown prospect in the rival code.
Either way Souths captain John Sutton says it will be a big loss, on and off the field, if Burgess departs.
"It would be a loss, he is a great player,'' Sutton said.
"Ever since he came to Souths he has been a leader.
"He would be a big loss if he does go but I don't know anything about that.
"I'm not worried. We have a year ahead to worry about.''