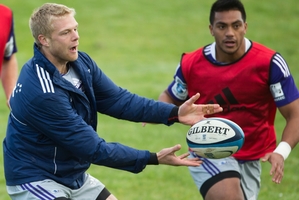 When Baden Kerr prepares for a game he knows there is every chance it will end in pain. As a migraine sufferer, the slightest head knock can lead to symptoms.
"It's something I've had ever since I started playing rugby," he says. "It's an unfortunate thing that a few players have. I guess it's something we've figured out over the last couple of years - last year in particular. I'm on some medication that helps me with the symptoms."
The symptoms - which Kerr experienced after the Blues' pre-season match last weekend against the Hurricanes when he received a knock - are not the result of concussion. They include vision problems and headaches and he has accepted they are something he has to live with.
"Other players will get the same knock that I get and they'll shake it off and get back to the game whereas I'll get a bit foggy and lose a bit of vision. After the game I'll get quite bad migraines whereas other players won't get any symptoms at all.
There are no prolonged effects."
All of which puts into stark relief his form for Counties Manukau, and to a lesser extent the Blues, last year.
After helping the Pukekohe-based side to an ITM Cup Championship victory in 2012, the first-five was the glue which held together Tana Umaga's men during their Ranfurly Shield reign last year. After winning the Shield in an extraordinary last-minute victory over Hawkes Bay in Napier, they comfortably saw off the challenge of Taranaki.
Further successful defences came against Waikato and Southland. Counties Manukau showed amazing consistency to finish fourth in the Premiership despite the added pressure of the Log o' Wood.
Signed to the Blues by John Kirwan last year for his first season of Super Rugby, Kerr featured in 12 matches, mostly as a replacement for Chris Noakes.
Benji Marshall's arrival has further complicated things for the tall (1.9m) and technically correct Kerr, but with Counties' recent season under his belt he feels confident in his ability to mount a serious challenge for the No10 jersey.
"You've got to look at it game by game, especially in the pre-season, that's where you can really stamp your mark.
"All I can do is concentrate on myself because we've got some really talented first-fives here - Benji, Noakesy and Simon [Hickey]. We're all trying to go for that same spot and that's a starting role."
Kerr, who will have an opportunity to further his claim against the Waratahs in Sydney tonight, said one Shield game which stood out was his team's first defence against Taranaki, won in imperious fashion 44-7.
"That was probably the most nervous I have been before a game. In those two weeks before Otago had the Shield and Hawkes Bay had it for a week.
"There was a lot of talk that it might keep bouncing around and we didn't want to be that team.
"We put a lot of pressure on ourselves to be the team that held on to it, and we held on to it for the season," he said.
Marshall had impressed him with his skill set, but Kerr, who holds a bachelor of sport and recreation degree and would like to pursue a career in teaching after rugby, said he could provide some guidance of his own.
"He brings a lot of excitement and energy to training. Personality is a big thing, that's something that can lift the team and your teammates.
"He's got some great skills that I'd like to learn, and I'd like to think I could help him out on the rugby side of things too."
- APNZ