Rugby convert looking forward to Sydney game but says he's still in learning mode.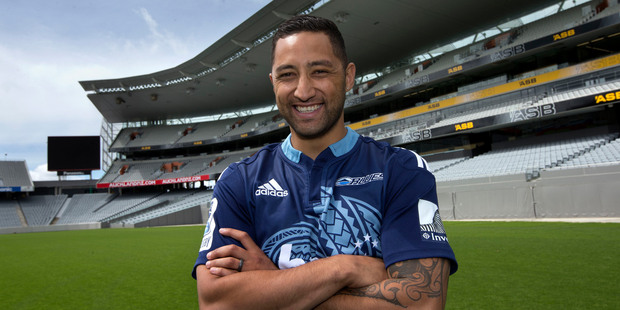 Amid the hype of Benji Marshall's impending return to Sydney - this time as a rugby player - the man himself appears to have his feet firmly on the ground.
Marshall, still learning his craft after his high-profile switch from Wests Tigers and league last year, can hardly see what the fuss is about.
The 28-year-old has, though, bought 40 tickets for friends (including his league mates) and family at the Allianz Stadium on Friday night to watch what will be his second match for the Blues, albeit a pre-season one, so he does appreciate its uniqueness and he's not the only one.
The crowd for the hit-out against a Waratahs team including Kurtley Beale and Israel Folau is expected to be more than 30,000 strong.
"It will be all right, I lived there for 14 years so I've still got a lot of friends and family there," was Marshall's response to his impending return.
"I'm looking forward to it. I've still got my mum and little brother living over there so I've got 40 or 50 coming ... and it will be good to see them."
As a former Kiwis captain who is used to the glare of the spotlight, he is likely to take it all in his stride. Coach John Kirwan, referring to Marshall as a "big-match player", certainly thinks so.
"He loves it, he probably enjoys it more than shies away from it," Kirwan said. "They tell me there's [going to be] 30,000 people there and that's what we want, that's why we play, I'd say he'll enjoy it more than worry about it."
Kirwan will name his team today but Marshall, who played 40 minutes in the Blues' close loss to the Hurricanes at Masterton last weekend, let slip that he will play at first-five for at least the first half.
"He'll be out there for a long period of time," Kirwan said. "I think it's important that he gets a feel for it under pressure so he'll definitely be spending a lot of time out there."
Other options for No10 on Friday night are Chris Noakes, back from a long-term neck problem, and Baden Kerr, who left the Memorial Ground last weekend after a head knock and blows to the shoulder and hand.
Marshall's backline colleagues will include All Blacks Charles Piutau, Francis Saili and Frank Halai, all of whom are likely to play the final 20 minutes.
"It's still a bit of a blur. It just happened so fast," Marshall said of his first hit-out. "One of the problems on the weekend was understanding that sometimes lineouts happen a bit faster than you expect, and getting that call out to the backs.
"I'm a lot more relaxed than I was last week, put it that way. Just getting that game out of the way and let the nerves settle a bit.
"This week I feel a lot more comfortable, even in my role during training. There's still going to be nerves there. It's my second game, I still haven't played a full game yet.
"It's just another game, it's a warm-up game in my eyes. It's about learning what I need to do at 10, not trying to win the game or impress anybody."
The Blues have signed former Highlanders, Hurricanes and Chiefs lock Hayden Triggs, playing in Japan for the Honda Heat, to replace Culum Retallick. But they have suffered another second-row blow with the news Tom Murday could be out for up to 10 weeks with a knee injury.
- APNZ