First rugby outing in a decade passes in a blur against Hurricanes; coach pleased.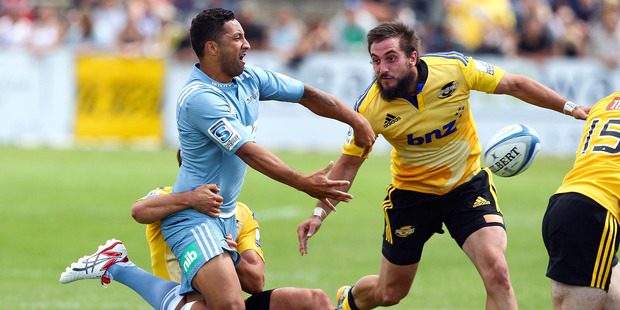 Benji Marshall will return to the rugby league stronghold of Sydney for the continuation of his rugby union education with some confidence after a 40-minute hit-out against the Hurricanes at Masterton.
After what was his first game of rugby union for more than a decade, the former Wests Tigers playmaker said he was happy with his efforts at No10 for the Blues in the 38-35 defeat on Saturday at a sold-out Memorial Ground.
Coach John Kirwan was similarly positive, saying first-five was Marshall's position.
"It was a bit of a blur to be honest," Marshall said afterwards. "I struggled to get a feel in the first 20 minutes but in my second 20 I started to realise what it's going to take to direct the team.
"I didn't set the game on fire but got some control.
"When you don't have the ball, it's a tough sport but once we controlled possession it felt great."
With Chris Noakes still recovering from a neck injury, Marshall, Baden Kerr and Matt McGahan, the son of former Kiwis league captain Hugh, were used at first-five. Kerr lasted about 15 minutes before going off with a head injury, with North Harbour's McGahan a surprise package during his 25 minutes. He showed skill and composure after training during the week at second-five.
The hit-out should do Marshall a lot of good. There was plenty of attention on him during the week as to how he would cope with the change of codes and that will be ramped up considerably ahead of his high-profile return to Sydney and the match against the Waratahs at the Allianz Stadium on Friday night.
The Australian media will be keen to shine the spotlight on him but at least he now has a frame of reference; another decent step on what has already been a steep learning curve.
Kirwan said Marshall could be proud of his efforts: "The most positive thing was how he came around the corner [of rucks and mauls] flat and hard at the line. He had a go.
"He implemented the game plan well and I think it's important to mention he didn't try too hard. The only concern was when he went into contact a couple of times."
Interestingly, Kirwan said he considered Marshall a first-five only.
There has been conjecture about whether the 28-year-old might find a home at fullback as he settles into the game following 201 matches in the NRL and 25 tests for the Kiwis.
"I thought about him there but he hasn't got time to master two positions," Kirwan said.
"He came in at first-five and has shown good signs there, so that's how it'll be."
Little should be read into the defeat in Masterton - helped by a late try to lock James Broadhurst - given the helter-skelter nature of pre-season matches and the absence of a big number of regular Blues personnel, but Kirwan will be pleased by the lack of serious injuries and the fact his team responded well to being down 19-0 after 20 minutes.
No All Blacks were available, with the starting backline consisting of halfback Bryn Hall, Marshall, second-five Jackson Willison, centre George Moala, fullback Albert Nikoro and wings Tevita Li and Lolagi Visinia.
In other pre-season results among the New Zealand franchises, the Highlanders beat the Brumbies 15-11 in Queenstown on Friday.
The Crusaders had an inter-squad hit-out in Christchurch, while the Chiefs open their pre-season campaign next Saturday with a match against the Reds in Toowoomba.
- APNZ