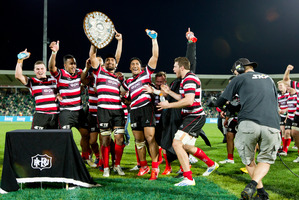 Winning the Ranfurly Shield was only half the battle for Counties Manukau - now they've got to try and hold on to it.
Following their thrilling 27-24 victory over Hawkes Bay yesterday, the Steelers will face their first challenge when Taranaki travel to Pukekohe next Sunday.
Defending the Shield has become somewhat of a problem this season.
Waikato dropped the Log o' Wood in round two against Otago, who then lost it nine days later to Hawkes Bay and they coughed it up on their first defence against Counties as the Magpies set a new record for the Ranfurly Shield's shortest tenure with a six-day reign.
It took Counties 25 attempts, but they've finally etched their name on to New Zealand rugby's most coveted prize and they have the luxury of an eight-day turn around before Taranaki come to town.
Counties arrived back in the Super City today and have a victory parade planned for the streets of South Auckland tomorrow.
Bench forwards Sean Reidy and Sikeli Nabou forced their way in to Steelers folklore with late tries against the Magpies, while fullback Sherwin Stowers was electric throughout the game after he bagged the first five-pointer of the contest.
It was a match that had plenty of highlights and was packed with the type of drama that Ranfurly Shield rugby breeds.
Counties coach Tana Umaga will also be pleased with his decision earlier in the year to shake up the travel plans for the game, which saw Counties make their way to Napier by bus rather than plane.
The victory also gave Counties' ITM Cup campaign some much-needed direction and they've moved out of the relegation zone in the Premiership standings.
If Counties can see off Taranaki's challenge, they will host Waikato the following week.
Going on current form, Taranaki don't look like mounting a decent run at Counties after they were pasted 51-15 by Auckland yesterday but given the way things have gone when the Shield is on the line this season who would bet against another upset?
- APNZ