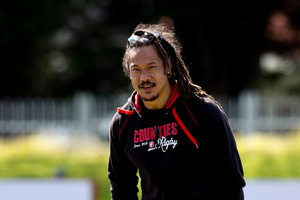 Counties Manukau did something different this week. In the age of frequent airline travel, the Steelers went by bus to Napier for today's Ranfurly Shield challenge against Hawkes Bay at McLean Park.
Counties coach Tana Umaga said he planned the 4-hour bus trip before the season started as a way to mix up the monotony of travel but it worked out perfectly as this game has now become the biggest of the season for his side.
Counties left south Auckland on Thursday to give them plenty of time to soak up the Ranfurly Shield atmosphere in Hawkes Bay.
"It's just through my experience that I thought 'well we'll chuck that in there when you can'," Umaga said of the bus trip.
"And you might as well save some money on some flights that you can put somewhere else.
"That's the thing with these little unions, we've got to try and save some money somewhere."
Shaking up the travel schedule may be the change in approach that Counties Manukau need to finally get their season into gear.
They made a disappointing start to the campaign after they were blown off the park by Wellington in week one.
They danced past a woeful North Harbour outfit in round two but were cleaned up by Tasman last week.
Counties showed some life against Auckland on Wednesday night but couldn't get one over their big brothers as they fell to a late try and now they're in a dogfight to hold on to their place in the Premiership.
A Ranfurly Shield win would turn everything around, though. The Steelers have never won the Log o' Wood and it was something Umaga never managed in his lengthy playing career in New Zealand.
Umaga said he wouldn't have any problems getting his players up for the occasion and joked his biggest task would be calming them down.
"These guys are always excited, that's the bloody problem," Umaga said with a laugh. "You need to quieten them down sometimes, they're a little gaggle of geese giggling all the time so I don't think the enthusiasm side of things will be an issue. The history of it precedes it and we all know what it means and we know the history of Counties Manukau's challenges in the Shield and hopefully we can create a bit of history and build a legacy for ourselves."
The only thing that Umaga is off the mark with there is using the word "little" when describing his side - they're anything but. Theyhave pace, power and size but channelling that in the right direction has been the side's biggest challenge in 2013.
"We talked about not giving a good account of ourselves in those early rounds, especially in our home games," Umaga said. "These short turnarounds are good in that aspect that you can't dwell on things. You've just got to get on and get ready for the next game, so that helped us against Auckland and hopefully it helps us against Hawkes Bay."
Counties will benefit greatly from the steady hand of pivot Baden Kerr who has recovered from a haematoma to his leg to take his place in the starting side after missing the last two games. Kerr is one of a handful of changes to the side who lost to Auckland on Wednesday but the key inclusion is No8 Fritz Lee, who escaped any punishment after he was cited for a dangerous tackle against Auckland.
The Ranfurly Shield has already changed hands twice this season and Counties Manukau will be hoping it's the type of thing that comes in threes.
Hawkes Bay v Counties Manukau
Napier, 4.35pm today
Hawkes Bay: Gillies Kaka, Telusa Veainu, Richard Buckman, Adam Bradey, Zac Guildford, Ihaia West, Alby Mathewson, Mark Atkins, Brendon O'Connor, Mike Coman (c), Mark Abbott, Michael Allardice, Max Lahiff, Ash Dixon, Brendon Edmonds
Reserves: Ged Robinson, Adrian Barone, Trent Boswell-Wakefield, Karl Lowe, Chris Eaton, Regis Lespinas, Trinity Spooner-Neera.
Counties Manukau: Sherwin Stowers, Frank Halai, Reynold Lee-Lo, Bundee Aki, Toni Pulu, Baden Kerr, August Pulu, Fritz Lee (c), Maama Vaipulu, Adam Cathcart, Jimmy Tupou, R Raaymakers, Jarrod Firth, Hika Elliot, Simon Lemalu
Reserves: Suliasi Taufalele, Sam Aiono, Sikeli Nabou, Sean Reidy, Kane Hancy, Ahsee Tuala, Sam Vaka/Ki Anufe.
- APNZ