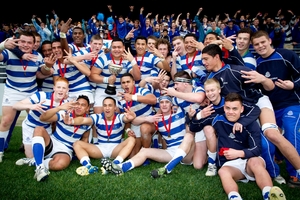 A last-ditch William Raea penalty for St Kentigern dashed Auckland Grammar's determined bid to upset the hot favourites in a heart-stopping Unitec 1st XV 1A Championship final at Eden Park on Saturday.
Down 10-3 at halftime, AGS clawed their way back into the game and seemed set to claim the spoils before Raea booted the ball between the posts to not only claim a three-peat of titles for St Kentigern but also stretch their unbeaten run to 50 matches. Their only dropped points this season were in being held 9-9 at home by MAGS in round two of the regular season.
In front of a huge crowd - far more at Eden Park than had turned up at Waikato Stadium the night before for the Ranfurly Shield/ITM Cup clash between Waikato and Otago - St Kentigern dominated the opening spell as the two teams traded early penalties.
Raea gave his team the early advantage before Auckland Grammar's Shaun Stevenson replied to level the scores.
St Kentigern winger Suliasi Vunivalu was dangerous on the left wing and almost crossed for the first try. In the ensuing ruck the ball came loose and was deemed to have gone into touch. This set up another attacking opportunity for St Kentigern as they gathered the ball and went into a rolling maul from which their captain Blake Gibson dived over for the opening try, which Raea converted for a 10-3 lead.
St Kentigern failed to capitalise on the wealth of possession and territory they enjoyed and went to the break without addition to the score.
A reinvigorated Auckland Grammar came out strongly in the second half and quickly made the most of an attacking scrum just 5m from the St Kentigern line. After a number of phases, AGS spread the ball wide and Keenan Masina breezed over to score. Shaun Stevenson was astray with the conversion but his team had closed to within two points with 30 minutes to play.
Auckland Grammar then unleashed a smart kicking game and threw everything they had at St Kentigern who made uncharacteristic errors. With 15 minutes to play, Stevenson slotted a penalty for an 11-10 lead.
In a tense closing spell Auckland Grammar were intent on holding on to their advantage while their opponents were just as desperate to steal it back. Just when it appeared the outcome was sealed, AGS cleared the ball into touch with just seconds on the clock.
In desperation, St Kentigern reacted with a quick throw in and were then awarded a penalty. With the last play of the game, Raea, from 40m, stepped up and calmly slotted the goal to win the match and leaving AGS, who had finished third in the regular season despite losing 30-3 at home to St Kentigern in round eight of the regular season, to wonder just what might have been.
In the curtain-raiser for the 1B Championship, Dilworth swamped Macleans 36-3 scoring six tries to none.