Before the clash between Chiefs and Crusaders locks Brodie Retallick and Sam Whitelock, the Herald asked All Black great Ian Jones to break down the big issues in the second row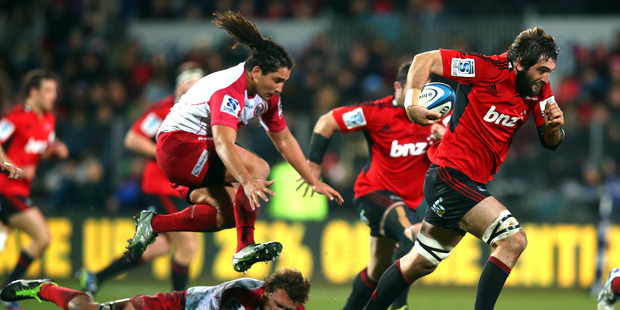 Q: If you were building a team from scratch and could pick only one of Whitelock or Retallick, whom would you pick and why?
Tough question first up but I'd go for Sam Whitelock. Sam is very strong in his core roles of scrum, lineout and kickoffs, but gets picked in this team for his experience and total rugby skills; that is handling and passing under pressure and his ability in our faster-paced, flat-attack game to break the line and make metres. I like his speed and agility, which make him a reliable support player and his work rate is immense, highlighting a player with a lot of character and heart. He's a player who you notice and can change a game.
Q: Can you explain the "sudden" emergence of a crop of young, world-class locks?
Because there has been a need and our systems always feed that need. With injures to Ali Williams, Anthony Boric, the drop in form of Tom Donnelly and Brad Thorn's career coming to an end, the selectors were forced to promote younger players and they have thrived.
It will be the same in all positions when our older players step aside and allow new players a chance to grow.
Q: Has the role of the second-rower changed much over the past 10 to 15 years?
I would like to say no but I'm afraid it's a resounding yes. The core roles might be the same - scrum, lineout, kickoff - but that's where it finishes. The expectations on the modern lock are greater, especially in defence where our top players are averaging in their teens for tackles made. Ball-handling and support lines have also changed with the speed of the game. One thing that hasn't changed: they're still the most important player out there!
Q: If you were to pick a lock from anywhere other than NZ to model your game on at the moment, who would it be?
Paul O'Connell, the Irish and Lions lock. We could all learn from his passion for the game and the maximum effort he puts in regardless of who he's playing for. His actions inspire those around him and he brings out the best in his teams. He's a leader, a hard worker and the type of dependable player you want on your side.
Q: Who was the greatest lock you ever saw?
Robin Brooke was one of the best - fantastic ball skills and really tough, mentally and physically. Victor Matfield could dominate a game like no other and was the greatest I've seen at controlling opposition lineout and flow of ball. Sam Whitelock's presence and work rate are inspiring and he's currently the best in the world. But the greatest/hardest to play against? John Eales. He changed the way the lock forward played the game and shutting him down was a priority in trying to beat Australia.