Getting 70-litre gift basket through Customs when team arrive home the next hurdle for champs to tackle.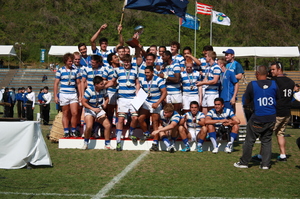 Having won six games in eight days to triumph at the Rugby World Youth tournament in Japan, the St Kentigern College team are hoping customs at Auckland Airport will allow them to bring home an unusual souvenir.
As well as a trophy and medals for each of the 30 players on the tour, the team was also presented with a basket of rice from the Fukuoka district.
It was a symbolic gesture from the local mayor, and one they took seriously, according to the college's head of sport, Martin Piaggi.
The rice has gone, but they hope the 70-litre basket gets the all-clear when the team arrives back. They are due to land at Auckland Airport this morning.
"It was a very symbolic gesture," said Piaggi, speaking from Fukuoka Airport. "It was full of local rice and was the mayor's contribution. The rice has gone but hopefully they [customs] will be able to give the basket a spray and we'll get it through. We're sure it will be okay."
The St Kent's team beat England's Hartpury College 40-8 in the final of the Sanix-sponsored tournament, ending their opposition's 50-game winning streak in the process.
They were untroubled by Japanese and Russian opposition in their pool and quarter-final games before accounting for Australian school St Joseph's Nudgee College 45-7 in the semifinal.
"The boys worked really hard," Piaggi said.
"They've been training four or five times a week at least, building up since they came back to school in January. In the early rounds, the Japanese and Russian players were really fast and physical but they didn't have the game-breakers that we had."
After a trip which included stopovers in Bangkok and a visit to Nagasaki's Peace Museum, a place which commemorates the atomic bomb attack on the city in World War II, the Pakuranga school team are back into competition mode with a 1A match against Otahuhu on Saturday.
St Kentigern have won the Auckland 1A final two years in a row and last year won the New Zealand Top Four title to qualify for the Fukuoka tournament.
It is the fourth straight year the event has been won by a New Zealand school, after Hamilton Boys' High in 2010 and 2011 and Kelson Boys' High last year.
St Kent's road to victory
bt Meikei High School (Japan) 67-0
bt Tokai University Gyosei High School (Japan) 36-7
bt Eniesei STM (Russia) 55-0
Quarter-final: bt Gose Industrial High School (Japan) 66-12
Semifinal: bt St Joseph's Nudgee College (Australia) 45-7
Final: bt Hartpury College (England) 40-8.
- APNZ