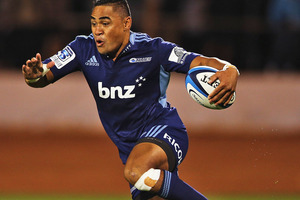 Blues midfielder Francis Saili has made a brief appearance in court to face one charge of driving while suspended.
Dressed in a blue suit, the 22-year-old sat in the public gallery at Manukau District Court with supporters waiting to be called to the dock by the registrar.
According the police charge sheet, Saili was stopped on Auckland's southwestern motorway on April 12.
He was not asked to enter a plea and his case was adjourned to next month so his lawyer could receive prosecution evidence from police. Saili was remanded at large to his Manurewa home.
Approached outside court he declined to comment.
News of the charge came yesterday as fellow Super 15 player, All Blacks and Hurricanes wing Julian Savea, appeared in court in Wellington charged with assaulting his partner.
Blues coach Sir John Kirwan told the media about Saili's charge after being asked about Savea's situation.
Sir John said Saili was accused of being caught driving after losing his licence because of speeding tickets. He has dropped him from the starting line-up to face the Reds this weekend.
"He's a young man who has done a silly thing. We're not playing him in our starting 15 for punishment of that and there are NZRU protocols that are taking place.''
Kirwan said Saili has apologised to the team.
"We just asked him to take more responsibility and make better decisions. He was disappointed, he apologised to the boys.''
- APNZ