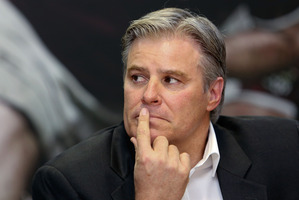 Tier one nations won't be given a cushy schedule at the next Rugby World Cup in England and Wales in 2015.
International Rugby Board chief executive Brett Gosper confirmed yesterday that the next global tournament would see teams given equal breaks between pool matches, a stark contrast to previous events.
At the 2011 edition, host nation New Zealand were given seven or eight days between their Pool A matches, while Tonga played three games in 12 days and then had to endure a 10-day break before their final Pool A match. Samoa were also hit hard as they played their four Pool D games in 16 days, while South Africa had 19 days and Wales 21.
The draw for the 2015 event is likely to be released within the next month and Gosper said it would be an equitable arrangement.
"There's a very strong fairness in terms of the times of rest periods and so on. So it'll be the same for all teams, far more equal. Completely equal versus the last World Cup."
New Zealand Rugby Union chief executive Steve Tew said he had no problem with the All Blacks having a shorter turnaround between games for their World Cup defence.
"We asked for it after the [last] World Cup," Tew said. "We thought it was unjust that the smaller unions were asked to play at the pinnacle event on shorter times than our games, so the tier one unions made a direct request at the end of the last World Cup."
Given the tournament window is from September 18 to October 31 in 2015, it seems likely that sides will have around four to five days between their pool matches.
Gosper was in Wellington yesterday as part of a short trip Downunder where he will also meet Crusaders and All Black management. The Australian, who has been in the top job since last July, spoke on a wide range of issues facing the game, including the new responsibilities of the TMO, rule changes, suspensions and club versus country arguments over players.
Gosper said a change could be in the works surrounding suspensions and sanctions.
All Black hooker Andrew Hore was given a five-week stand-down for an ugly king hit on Welsh lock Bradley Davies last November but served three of them in Highlanders pre-season games.
Given that sanctions aren't a specific law, a change could happen quickly if the powers that be decided to make a tweak.
- APNZ