As home-grown Super rugby teams muddle through, sides from across the Tasman, especially the Reds and Brumbies, flourish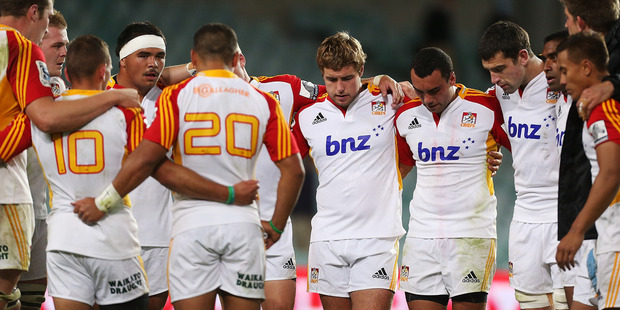 Chiefs players look dejected after defeat in the round 10 match against the Waratahs. Photo / Getty Images
This weekend marked the halfway stage of Super rugby's regular season, and as the dust settles on another round in which the New Zealand teams were less than impressive, it's worth asking - what's going on in our game?
Blues apart - and how they have come to sit atop the New Zealand conference is extraordinary in itself - the Chiefs, Hurricanes, Crusaders and Highlanders all have their issues, some clearly more than others.
Injuries are playing a part. The Chiefs, Crusaders and Highlanders in particular have been badly affected, but as the New Zealand teams muddled their way through the last couple of rounds, teams from across the Tasman flourished.
The Reds and Brumbies are serious threats, with the Waratahs also beginning to find their attacking mojo, thanks in part to the athletic code-hopper Israel Folau.
First, a look at the weekend.
The Force offered little in the first half against the Hurricanes in Wellington, yet later threatened to steal what would have been a remarkable victory, the home side hanging on 22-16.
For the Chiefs against the Waratahs in Sydney, the opposite applied. Dave Rennie's men hardly fired a shot early on. In going to halftime 15-0 down, it is the first time since 2010 that they have failed to score in the opening stanza.
They came back to take the lead with less than five minutes remaining, but quickly conceded a soft try, and the match, 25-20. It was an uncharacteristic loss for the defending champions who, worryingly for them, were also second-best against the Reds in Hamilton the week before.
The Crusaders and Highlanders, struggling for different reasons, battled in difficult conditions in Christchurch. The home side won 24-8 but looked a shadow of their former selves; Jamie Joseph's men, losing their eighth game of the season, looked like deserving winners of the wooden spoon.
Former All Black midfielder Matt Cooper believed the Kiwi malaise could be blamed on several factors - injuries, a failing of core skills, an attacking mindset, and good analysis from the opposition, particularly by the Australians.
"What is disappointing from a New Zealand perspective is that the failure of the core skills under pressure just seems to be creeping in higher than normal," Cooper said.
"Halfway through the competition, you'd expect that to be better. Our lack of intensity sometimes without the ball on defence has also exposed some of our teams.
"I think it's a phase New Zealand teams are going through, and when the heat goes on I'd expect we'll see the intensity lift and better skills.
"The other teams are probably reading us now.
"We have always had an extremely attacking mindset, too.
"Is it time, dare I say it, to be a bit more conservative at some stages? Or are we going to continue with this pretty hectic attacking mindset?
"When you have that attacking mindset you normally come out on top, but with that high-risk, high-reward game we have been caught on the hop a bit.
"Do we go back to a conservative approach? I don't think that's the style of New Zealand rugby teams."
Former All Black selector Peter Thorburn believes the migration of so much of New Zealand's second-tier talent overseas is playing a part in the at-times bumbling performances.
"There will be 60 or 70 players who aren't All Blacks and some of them wouldn't be top-level Super rugby players necessarily, but they just keep that level up."
With injuries to high-profile players Kieran Read and Dan Carter at the Crusaders, Richard Kahui, Ben Afeaki and Craig Clarke at the Chiefs and Nasi Manu, Tamati Ellison and Mose Tuiali'i at the Highlanders, that lack of depth at the next level will take more of a toll.
Players already up to speed to Super rugby level needed less instruction and were a step ahead in terms of "rugby smarts", Thorburn said, something the the Reds, Waratahs and Brumbies appear to have in abundance.