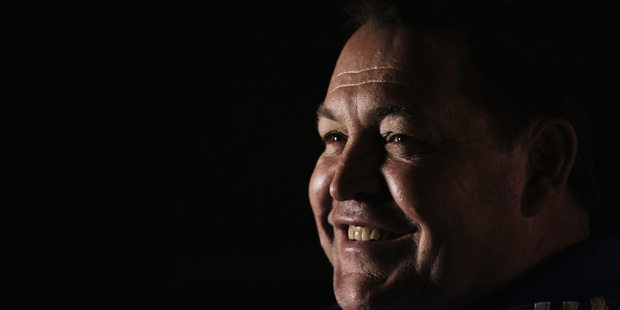 A major piece of the All Blacks' World Cup jigsaw will fall into place this week when Steve Hansen is confirmed as the man who will coach the national side at the next tournament.
The Herald on Sunday understands that following extensive reviews, the New Zealand Rugby Union agreed at their March board meeting to back Hansen as the man to deliver their stated goal of winning back-to-back World Cups. Hansen's reappointment through to 2015 is expected to be announced this week.
The incumbent head coach was initially appointed in December 2011 on a two-year deal. The NZRU have maintained a consistent line that, while the deal was for two years, they wanted to extend it subject to performances and results being in line with expectations.
Having finished 2012 with a record of 12 wins, one drawand a solitary loss, the board felt comfortable making an early decision to lock Hansen inuntil 2015.Notonly didthe All Blacks dominate world rugby last year, theyunearthed a handful of seriously good prospects in Sam Cane, Brodie Retallick, Beauden Barrett and Julian Savea while the senior players all talked of an inspiring environment.
Many previous World Cup winners have regressed in their first year as champions. Aware of the potential for the All Blacks todothe same, Hansen challenged his side to build on their achievement and take their performances to new levels. It hit the right note with an ageing side, many of whom needed fresh motivation that captured their imagination.
Hansen's extension is a victory for common sense. There is nothing to be gained from delaying Hansen's reappointment, other than creating uncertainty and running the risk of him being lured elsewhere. Hansen, All Black assistant coach since 2004, was the only candidate put in front of the board for a two-hour interview after former head coach Graham Henry stood down after delivering the World Cup.
Viewed unanimously as the right choice at the end of 2011, Hansen has firmed his credentials in the last 14 months. His new contract provides him with the security he needs to begin planning for the World Cup.
It is understood that the only other member of the All Black management team to be locked in for the World Cup at this stage is long-serving manager Darren Shand. Like Hansen, Shand has been with the team since 2004 and has the track record to earn an early extension.
The rest of the team - assistant Ian Foster, forwards coach Mike Cron, skills coach Mick Byrne and technical director Aussie McLean - will have to wait until later in the year before learning their respective fates.