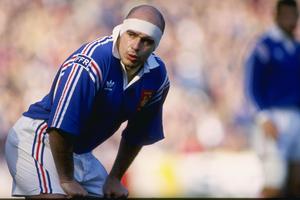 Former France hooker Laurent Benezech claims people are turning a blind eye to doping in rugby in the same way that was once the norm in cycling.
Speaking to Le Monde, Benezech said: "The proofs [of doping in rugby] are in front of our eyes but no one's interested. Rugby is in exactly the same situation cycling was before the Festina affair."
The Festina affair was an infamous case from 1998 in which the Festina team doctor was stopped by customs officers at the France-Belgium border and was found to be carrying various doping products.
The fall-out resulted in doping investigations and admissions from cyclists and, in many people's eyes, was the catalyst to a new commitment to tackle doping in the sport.
Benezech's comments come just a week after former France half-back Jean-Pierre Elissalde claimed amphetamine use was widespread in the sport during the 1970s and '80s. He also admitted doping.
Just a few days before that, high-ranking French anti-doping official Francoise Lasne claimed rugby had returned the highest proportion of positive dope tests in France in 2012.
According to Benezech, capped 15 times in 1994 and 1995, the evidence is in the statistics.
"We went from 20 minutes of effective action to 30 minutes at the end of the 1990s which was the normal evolution due to the players becoming professionals," he said.
"But now we're explaining, even though we're already at 40 minutes, that we can hit 50 and even, why not, 60.
"That's what happened in cycling at the end of the 1990s when logic saw us lengthening the Tour de France's stages and increasing the difficulties without it posing any problems physically to the riders."
Benezech blamed clubs for being complicit in abetting doping by authorising the use of banned substances for therapeutic reasons.
"In certain clubs, there is the legalisation of the use of authorisations given by the doctors, the famous AUTs [authorisations for therapeutic usage], otherwise players would test positive," he said. "The use of AUTs has developed in the sense that the doctor justifies the use [of banned substances] for medical reasons when it's clear that they are used to improve performance."
Benezech said rugby authorities had to stop burying their heads in the sand or the systematic use of doping would continue.
"As long as we remain in the dark and refuse to be transparent, we will not be able to avoid endangering the health of sportsmen."
- AFP