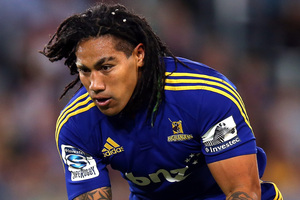 Sometimes it is hard not to wonder whether that cascading mass of hair atop Ma'a Nonu's head is merely the tip of the iceberg. That beneath the cranial crust there lies oodles more, a dense forest that prevents full synapse connection in the cerebral region.
It's not quite right to diagnose him as hair-brained because there are sporadic, even prolonged periods of clarity when Nonu inspires more than he frustrates.
But he did much more frustrating last night, perhaps understandably given the trepidation he must have felt returning to Eden Park after breaking promises and a binding contract to get away.
He knew he would be cast as pantomime villain and he warmed to the role, providing ample reason midway through the first half for a major boo and hiss when he clobbered his supposed best mate Piri Weepu with an ugly and reckless shoulder charge.
The most bizarre part was that it had the hint of premeditation about it. An unreported tiff or the actions of a man out of form and under pressure?
Weepu had escaped the clutches of the first defender, had bounced Aaron Smith out of the way and was beginning to open the throttle when Nonu, eyes ablaze, fired in from the side with obvious intent. Weepu was going down - hard: the legality of the challenge appeared to be unimportant to Nonu.
His assessment was wildly inaccurate, though. It was a game-changing hit - possibly relationship- changing, too. The yellow card drew the inevitable outrage, but way more damagingly, it also delivered the Blues 12 points while Nonu was on the naughty chair.
The home side needed something to awaken them. They were a touch shambolic until then, fortunate to be only 10 points down. Ball retention, composure and creativity were all missing until the temporary absence of Nonu gave the Blues the space and time to slot into their groove and improve their accuracy and direction.
When the Blues needed another lift of intensity early in the second half, it was Nonu again who provided it. He fired through the home side's midfield only to be stripped by Chris Noakes - it was one of those moments that screamed it wasn't going to be Nonu's night. More, it had the feel of poetic justice about it - that Nonu had backed the wrong horse.
He'd also hit the wrong horse earlier as Weepu took his revenge with two tries. Both of them required lung-bursting support runs and as every sinew heaved and stretched to get there, might Weepu have been driven by the notion he was going to make his mate suffer for the earlier cheap shot?
Nonu played a direct role in providing 12 of the Blues' points and had an indirect influence on 14 more.
Those with a propensity to be unkind might suggest it was Nonu's most positive contribution for the Blues, that it surpassed his efforts last year when he was on the payroll.