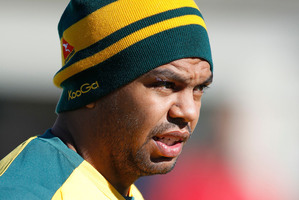 Former coach Eddie Jones believes the Wallabies need to ditch some of their "mavericks" if they want to keep up with the Lions on their tour Downunder.
Jones thinks there are too many free spirits among the Wallaby contenders for the team ethic to prosper in the three-test series.
He has also opted for Reds halfback Will Genia to captain the side and has picked the veteran George Smith to be one of the flankers after David Pocock's season-ending injury.
Jones wants Robbie Deans to cull some of the unruly talent and suggests Kurtley Beale, who was sent home from the Rebels recent trip to South Africa, should miss out.
Quade Cooper gets a selection tick from Jones, who thinks James O'Connor and Digby Ioane should also be sidelined unless they adhere to strict guidelines.
Jones' gut feeling is that Deans will not be able to control the troublesome foursome.
"My hunch is that he can't do it," Jones blogged on the Rugby Site.
He urged Deans to sift that rogue quartet and pointed to the way Reds coach Ewen McKenzie stood Ioane down in this year's Super 15 series.
The team ethic was more important than individual egos and players had to understand that Wallaby culture, Jones said.
"Ratbags" did not have to be excluded because they could make a difference, just as Andrew Walker, Lote Tuqiri and Wendell Sailor had for the Wallabies.
But for teams to be consistent, players' off-field preparation had to be dependable.
Jones pointed to the Brumbies' success this season which was built on team ethics.
Coach Jake White had used the same formula with the Springboks and it became hard for players to deviate from those standards.
"When Deans looks to select his Australia team to face the Lions he will be preoccupied by the team ethic, as he has been for a couple of years," Jones said. "He will have to decide between Quade Cooper and Kurtley Beale and then leave the other out of the squad. Can he accommodate both O'Connor and Ioane. These are difficult questions."