The mercurial No 12 has the power, the skill and the talent, but somehow there always seem to be questions about when they're all going to come together and reignite into his world-beating form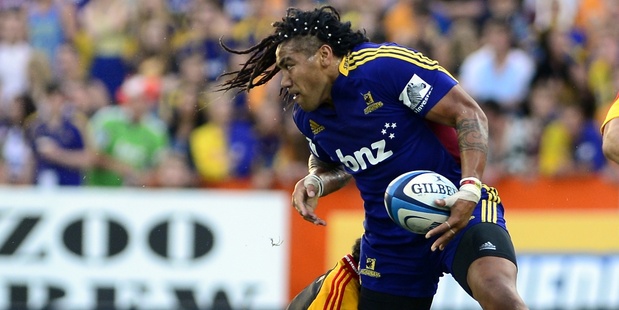 Most rugby seasons, there are questions about Ma'a Nonu. Sometimes there are positives about whether he can maintain his rich run of form.
Usually the probes wonder when Nonu is going to catch fire, whether he will or whether he is pacing himself for the international programme.
There is no question about his calibre, as befits a man who has played 76 tests and started 52 of them in the No 12 jersey - the most by any All Black second five-eighths.
His test career began in 2003 but did not burn strongly until 2008 when he shifted permanently outside Daniel Carter.
Since then, there have been rare questions about his international pedigree until Sonny Bill Williams began to stir the competition.
SBW has sauntered across the Tasman for what many believe will be a five tackle, kick interlude before his return to the Chiefs and All Blacks.
This year at least, Nonu looks unlikely to be impeded in his test claims unless injury strikes.
Others, such as Ryan Crotty, Andrew Horrell, Bundee Aki, Tim Bateman, Jackson Willison and Francis Saili are good players but well shy of Nonu's credentials.
And while he has flown the Hurricanes' coop, Nonu's interplay and midfield telepathy with Conrad Smith is a golden partnership the All Blacks will want to continue.
Smith usually cracks through the Super 15 with a string of solid performances and backline leadership but his old buddy is more erratic.
He fell foul of new Hurricanes coach Mark Hammett. No doubt there was fault on both sides but there was only going to be one winner and it was not Ma'a Alan Nonu.
He had to find another rugby home and decided to make it with the Blues.
They had former All Black Benson Stanley and Michael Hobbs to help out in midfield, but Nonu was going to provide the edge, the solidity and some of the direction the Blues so badly needed.
It didn't pan out that way.
Nonu played in Japan after the World Cup, and when he returned he struggled to get out of third gear. The spark and energy were missing in his play and while he made the All Blacks squad, they spelled him from the June tests last season.
When he was at the Blues, Nonu was the sort of chameleon he seemed to be with the All Blacks.
He could switch from happy Ma'a to awkward Ma'a in mid-sentence. It might have been an act - if so he performed the change well - but you sense he enjoyed being difficult.
It added another layer of mystery to a bloke who did not rely on convention. He fitted into a genre of rugby men like David Campese, Ali Williams, John Kirwan and Mark Ella - very gifted but rarely standard in their work and life.
After one season with the poorly performed Blues, Nonu shot through again. Who knows why?
But it's a fair bet that, when he saw men like Andrew Hore, Tony Woodcock and Brad Thorn joining other All Blacks at the Highlanders and coach Jamie Joseph painted rosy visions of 2013, Nonu fancied the southern men would have a good season.
That vision has been clouded and Nonu has shown rare glimpses of his talent. He's had a bung leg which has not helped but as yet, there has been little of the venom we know he has.
None of that intimidating swagger, none of that imposing arrogance which the All Blacks love.
Why? It's early in the season, he has been injured, he has not got the flow of possession he would have wanted and he has yet to bed into the Highlanders rhythm.
Any midfield, as former All Black coach Graham Henry suggested in a recent Rugby Site article, is a work in progress.
"I've worked with a lot of combinations where the 12 is very strong, will get over the gain line and provide quick ruck ball," he wrote.
"The 13 has been a very good distributor, a good tactical kicker and had a very high work rate."
That described the Nonu/Smith combination, although Nonu had improved his passing off either hand. Smith had more subtle skills and a huge workrate which was imperative to play centre.
"When you have your combination, it is sometimes best not to overcomplicate things," Henry added.
"You can run three or four different options off one set-up, but you probably don't want to go further than that. Reduce the menu so it is easier to handle mentally."
Repetition and patience were keys for any moves to work as plenty of little factors could affect the timing of the strike runner.
That has impeded the Highlanders' work because Aaron Smith and Colin Slade have not been a crisp partnership to run off, while the loose forwards have also lacked some sting.
Nonu is not the only fit All Black battling to reproduce his test form. International mates at the Highlanders fill that bill too.
Others, like Daniel Carter, have been quiet. In the opening stages of the competition, he looked as though he was doing a job at the Crusaders without pushing himself.
A rugby season stretching from February to December will do that.
Test careers which began a decade ago will create some careworn edges and a gift for timing upgrades around those international dates.
Judging that ranks with the most awkward times for the All Black selectors. It can be very emotional. They need to be detached and that's when they earn their coin.