In the early years of elite rugby, players still held court sessions and drank for a reward, writes Gregor Paul, but those coming through now are the most professional coaches have seen.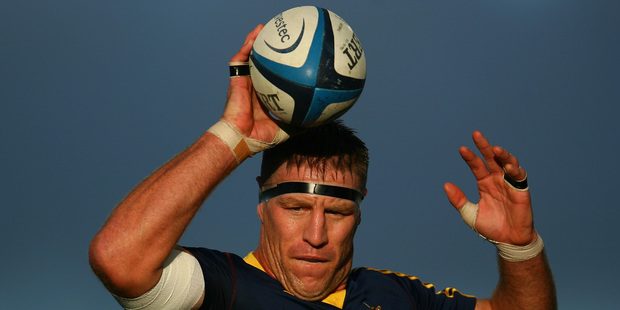 Surprised was the best way to describe how All Blacks coaches Graham Henry, Steve Hansen and Wayne Smith felt when they saw the extent of the All Blacks' drinking culture in 2004.
Both Hansen and Smith returned to New Zealand from overseas posts to take up assistant roles with the All Blacks, while Henry, too, had spent much of the preceding four years in Wales. From afar, they assumed that behind the scenes the All Blacks would have evolved into a standard-setting professional unit, taking the lead in all areas of sports science.
"I was surprised we hadn't moved forward," says Hansen, who assumed the head coaching role after the 2011 World Cup. "We hadn't moved on from holding court sessions and I thought we would have. When I was with Wales we would celebrate as a team, have dinner maybe and then the players would go their separate ways. We didn't have court sessions or the like and it wasn't really a binge-drinking culture."
When the new coaching team first came into the job they focused on performance after the All Blacks had been bundled out of the 2003 World Cup. They didn't have an in-depth knowledge of the players or the team cultures and systems.
Initially, there was no cause for concern: the All Blacks hammered England and Argentina, beat the Pacific Islanders, Australia and South Africa at home. And then it all went wrong.
Once the team jumped on a plane, the coaches became alarmed - a touring mentality took over. Drinking increased and the focus of the players drifted. Australia won easily enough in Sydney and the Boks ran rampant in Johannesburg. It was a torrid day for the All Blacks - they fell apart, lost their unity, played as individuals and were lucky not to concede 50. But that didn't stop the team having a massive blow-out - players giving the impression the drinking was more important than the playing.
"The culture was that if you weren't playing, then you had the week off," says All Black manager Darren Shand of what he discovered when he came into the job in 2004. "Guys would do the training but they had, I suppose, the attitude of what were once called the dirty-dirties, but we didn't have mid-week games.
"I came from the Crusaders where we had court sessions as well, but only when we won. I can remember in 2004 being surprised that the team had a court session after we had lost heavily to South Africa. Some guys were heavily intoxicated - to the extent they had to be helped to bed. We were staying in a four- or five-star resort and their behaviour was inappropriate.
"In my experience when these sessions got really out of hand was when hard liquor was introduced."
Professionalism didn't arrive in a revolutionary blaze as far as boozing was concerned. It inherited a legacy of heavy drinking; more, it inherited a culture where drinking was considered an entitlement - a means by which the game marked itself as different, more manly than other football codes.
However incongruous it might seem to have an elite performance environment entwined with heavy drinking, that's how things were in 2004.
In the amateur days, drinking was just what teams did - after training, after games, after anything really - it was a right, a bonding ritual, the only considered means to knit the fabric of diverse personalities from varying backgrounds into a cohesive unit.
Alcohol consumption was institutionalised, usually endorsed, even encouraged and often competitive; it was a means by which a hierarchy could be established or reinforced. Court sessions - where team members were hauled in front of their peers, accused of real and fictitious misdemeanours and required to drink as punishment - became infamous parts of a club's folklore.
Initiation ceremonies were also ingrained. It wasn't uncommon on the night a player won his provincial blazer for him to have to drink 12 cans of beer in an hour. It was often difficult to see where the drinking stopped and the rugby began.
In the early professional age, the excess wasn't so much curbed as shifted - inadvertently perhaps, but most teams created perfect conditions for a binge-drinking culture to blossom. For much of the early professional age beer was reward for hard work.
"We celebrated success," says current Auckland coach Wayne Pivac of his previous stint at the province between 1999 and 2003. "I wouldn't say it was encouraged as such, but alcohol was freely available. We would work hard all week and then game day would be the time we would celebrate.
"We would have a few beers in the changing rooms. Then we would have an aftermatch function where beer was available and after that we would head to a free bar.
"We also had court sessions where we would drink a bit of booze. We were pretty successful back then so we did a bit of celebrating."
The Auckland team were New Zealand's premier side in an age when provincial rugby probably, just, outranked Super 12 and yet they were steeped in a culture of abstinence then over-indulgence. That such a culture flowed to the All Blacks was inevitable.
"Professionalism was different back then," says Blues captain and 77-test All Black Ali Williams. "We weren't training as hard or as long and we weren't as competitive with each other when it came to all the little things. It was more your competition was on the field. Now physically we are all doing the same thing, so [if you drink heavily] you get caught out.
"The game has evolved therefore the drinking has evolved."
Seeing the carnage in South Africa, the All Black coaches knew they had to instigate change. They had a talented group, but a group that was never likely to fulfil its potential because they lacked personal responsibility, self-reliance and the capacity to lead their lives to a higher standard than their non-rugby playing peers.
There was no point in imposing limits on how much people could drink as previous experience suggested that would simply drive things underground.
Change couldn't be superficial, it had to be sustainable and convert players into drinking sensibly and responsibly and possibly more importantly, kill the traditional sessions and the notion of alcohol as reward for hard work.
"There are three different cultures that we want to diminish," says All Blacks mental skills coach Gilbert Enoka, who was one of the key men tasked with driving change.
"The culture of silence - we want an environment that when players are feeling unsure or situational stress, they actually speak up. The culture of secrecy where players appear to listen to things, nod their heads but haven't really taken it in or don't want to take it in. That drives a lot of behaviour underground. And the culture of me - we want the team to come first."
These initiatives and many others - such as the self-empowered player leadership group - came under the umbrella mantra of "better people make better All Blacks". It was mocked in the wake of the 2007 World Cup disaster, but while it may not have led to on-field success back then, it should, say current players and coaches, be considered the catalyst that sparked a cultural revolution across all levels of New Zealand's professional game.
Enoka says the hardest part in relation to alcohol intake was finding alternatives to court sessions and moving away from rewarding players with a licence to drink excessively. Being an All Black still has to be fun, it is just that the fun can't be associated with getting drunk.
"We have moved away from the old ways," says Hansen. "We still have a laugh, but we don't force alcohol down the throats of young men any more. As a leadership group, we [management and players] discuss things like 'how do we celebrate a test win if we have a performance that we can be proud of?' We have rules around that and one of those is if you are injured, you don't drink [because it compromises recovery]. The culture now is all about performing."
It is almost 10 years since the All Blacks began the process of making players personally responsible for their drinking, and the picture is different.
Professional rugby can no longer stand accused of having an endemic binge-drinking culture. The game no longer sanctions or encourages players to drink excessively. The new generation of players have no idea what court sessions are and many don't drink at all.
"The nine new players we welcomed into the All Blacks last year were, without question, the most professional athletes I have encountered in my coaching career," says Hansen.
Huge investment has been made by the NZRU and NZRPA in educating players about the consequences of alcohol abuse. Teams talk about alcohol as part of their planning - letting players know the expectations, highlighting occasions where it will be possible for those who drink to have a few in moderation.
Probably, though, the biggest driver of change has been the increased physicality of the game. The athletes are bigger, faster and stronger. Everyone trains for longer and trains harder and the little things are deemed to make all the difference. One of those things is recovery after a game.
All the research shows that heavy drinking is disastrous for recovery and with so much rugby crammed into the calendar, and coaches determined to make the most of their preparation time, players will soon be found out in the way they train and play.
"Things are a heck of a lot different now," says Ian Foster, one of the more experienced coaches in New Zealand, having had a long association with the Chiefs and now the All Blacks.
"When I came into the Chiefs job we realised it wasn't going to be a smart tactical move that would make the difference - it was going to be getting a whole lot of little things right, and recovery has become one of the key differences in the last 10 years.
"The game has become so much more physical. At the Chiefs I had Nic Gill [now All Black trainer] and a lot of our alcohol decisions were driven from that sphere of thinking. The option is there to do testing [for alcohol levels], but in my experience if you legislate then its often the case that you force a certain behaviour underground.
"In New Zealand we have gone down the eduction route: teaching the need for personal responsibility. In our day there was very little personal responsibility. If you could get away with things... great. But now it's about players making decisions that help them become good rugby players."
Most professional teams in New Zealand will conduct testing within 48 hours of a match. Urine is analysed as a means to determine an individual's recovery level: to check they have replaced the lost fluids and that muscles are recuperating. "That testing is about seeing where a player is at physically," says Pivac. "It's to give the conditioning coaches a handle on how that player is tracking, but it is information that comes across my desk and if someone has had a huge night out, then I'll definitely know about it."
Pivac says it is not possible for any player to reach an ITM squad these days and not be fully aware of the detrimental impact alcohol has on performance.
But for all the improvements and all the investment, Hansen sounds a warning against complacency. "We are dealing with young men and young men are going to make mistakes. As a management group, as an employer, we can't be rash. Sometimes we are too quick to say that they should be kicked out. But we have an obligation to support them, to help them take responsibility and make changes.
"Rugby was built on the idea of helping your mates so we have to do that, but I suppose there will always come a point if you can't change the man, then you have to change the man.
"I'd say if you asked Brad Thorn why his career has lasted as long as it has, he'd say its because he cut out alcohol. It's a balance - do you want your career to last another two years, or are you a guy that wants to enjoy what you do and take two years off your career?"
The series
Sunday: How the system failed Zac Guildford.
Yesterday: Why alcohol has always been a part of the elite game.