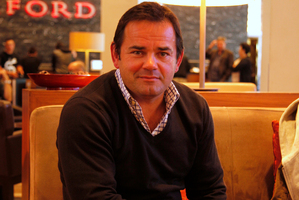 The Grudge: Scotland vs England, 1990
Tom English
Last Sunday saw Wales deny England a Grand Slam when thrashing them in Cardiff. Twenty-three years ago saw one of the most famous Grand Slams in what was then the Five Nations - and England were again the central protagonists.
On March 17, 1990, Scotland marched menacingly on to Murrayfield to triumph 13-7 over England and secure the Five Nations and grand slam. The Grudge chronicles the open hostility of the era.
Sports journalism often serves up sentimental tripe about matches being "more than a game" as patriotic hype trumps raw sports enjoyment. Yet in a comprehensive investigation, author Tom English weaves in the vital social context to this match. This is no ugh-ugh rugby book.
Margaret Thatcher's Conservative government experimented with an ill-fated poll tax or "community charge" in Scotland from April 1, 1989, a year before implementing it elsewhere in Britain.
The system was perceived to shift the tax burden from rich to poor. Add the postponement of the annual England-Scotland football match for the first time since World War II, 15 per cent Scottish unemployment and the arrival of loathed English players like Will Carling and Brian Moore in Edinburgh. Cue a powderkeg.
Fortunately some lighter moments leavened the match day mood. Q: How did grizzled England tighthead prop Jeff Probyn relax? A: Watched Fraggle Rock. Q: Who shrieked when confronted by a Thatcheresque bouffant of hair after looking in the mirror? A: Craig Chalmers.
What sets this book apart is balance; almost all the players and coaches co-operated for its 2010 publication. If someone from each camp is to be singled out for special commendation it would be England's Carling and Scotland's assistant coach Jim Telfer.
Carling, then 24, became "Thatcher's captain" despite claiming to have never voted. His candid responses are refreshing. He admits to being weak in certain areas of life, like pursuing what's described throughout as a "friendship" with Princess Diana. "How could I be England captain and be comfortable playing in front of 60-70 thousand people while at the same time be so bloody insecure," Carling says. He confesses his trepidation in leading gnarled veterans, being spat on at the airport post-match and having his photo plastered over a Scottish pub urinal where patrons preferred to douse him rather than unleash on the Saddam Hussein model next door. "Our customers seem to forgive mass genocide," the publican observed. One moot point might be the claim Carling had become "the most famous player in the world". In early 1990 the undefeated (and then incumbent) All Black captain Wayne Shelford, France's Serge Blanco or Australia's David Campese might contest that.
There's also a forensic examination of Telfer. The fear and respect the players had for him; his inspired team talks; his background growing up with parents who served the Duke of Roxburghe. He sounded like Scotland's Fred the Needle. For less than £3 ($5.50) on Amazon this was a compelling read.