Crusaders coach admits being caught out by cohesive unit which contains plenty of strike power on edges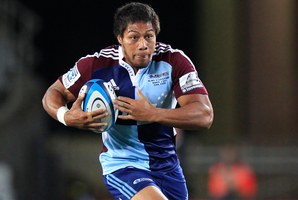 The Blues have surprised many people this season and the Crusaders admitted they were caught out by their cohesion.
Courteous visiting coach Todd Blackadder delivered the public niceties while he grappled with the patchy work of his group who were well beaten 34-15 at Eden Park.
The five tries to none margin which favoured the Blues was a weighty reflection of the side's potency. They challenged across the field while the Crusaders lacked rhythm and variety.
"The Blues are further down the track than everyone expected," Blackadder conceded.
"They played really, really well and looked like they were a team and they have got some strike power."
The team concept would have been the best remark for the Blues to digest after their opening appearance at Eden Park this season.
For too many seasons they have lacked cohesion and failed to understand how to nail individual skills to a team flow. That is evolving under the concerted teachings from an experienced Blues coaching staff. They assess certain areas of the game against markers such as attitude, commitment and technique.
Against the Crusaders, they would get high marks for their defensive surety but at the other end of the scale unpick why they had some lineout problems.
Overall though, coach John Kirwan was pleased with progress and the approach his squad was showing. That included the reserves who helped out late in the last quarter as the Crusaders looked as though they might grind out a late result.
"We have been working on getting back to basics and getting back to what we do as our primary roles," captain Ali Williams said. "You can see the passion and desire in their eyes and I am getting feedback when I am talking to them. People aren't afraid to say what they feel and we are committing to something and all going through with it."
Kirwan said the group was determined to play a high tempo, high impact, high skilled game and that brought some risks. But the staff had to trust the players to make decisions.
George Moala's late try was a great example after replacement five-eighths Baden Kerr dinked a kick out of his 22.
There was still a great deal of refinement needed but the victory against the Crusaders showed they were heading in the right direction.
One issue cropped up late before kickoff when Chris Noakes felt his groin tighten and Piri Weepu had to take over the goalkicking. His two from six attempts squandered too many points and those things could be costly.
If players kept up the sort of work they showed against the Crusaders they would deliver tough selection decisions at the Blues and demand further inspection from the All Black panel.
Rene Ranger was a prime case. He had shown out strongly in his matches against Conrad Smith and Robbie Fruean. He was an x-factor player who needed to build his consistency. "He is a senior pro who makes key decisions. He took some risks and then tightened his game," Kirwan said.