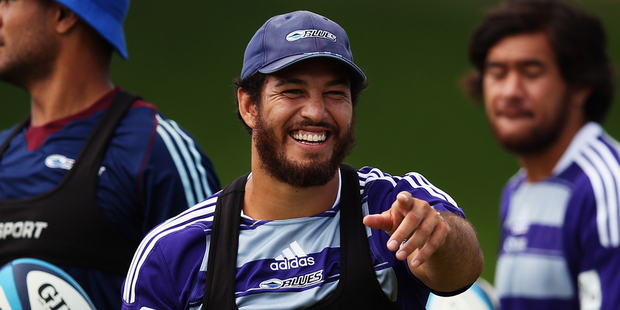 The timing looks odd, but it's not - the European market needs answers now which is why Rene Ranger has reportedly committed to join Montpellier later this year.
He said today that he hasn't actually signed and nothing is decided. That's, probably, only half true. There are strict rules when French clubs can confirm they have signed players: each year the governing body sets dates, usually mid-April to mid-June when clubs can publicly announce who they have signed.
French clubs being French clubs, though, they can't help themselves - the owners like to whisper ahead of the window, tell local media who might be unveiled when the time comes.
When Ranger says nothing has been decided, you can make a reasonable bet that everything has been decided - it just can't be confirmed yet.
It might appear to be a bad choice given the dearth of midfield resources and his likely departure will add to the drama, the growing sense of crisis in the midfield.
But it's more annoying for All Black Steve Hansen than disastrous. No question, should Ranger deliver during this campaign - improve his distribution, create as many tries as he scores and tighten and improve his defensive alignment - he'll be of interest to the All Blacks.
But while midfield resource is light, it's not non-existent. Ma'a Nonu and Conrad and Ben Smith, barring injury are likely to be available for the June tests and Rugby Championship. By the end of the latter, or maybe sooner, Tamati Ellison is expected to be playing again.
So Ranger, even should he have a solid season, would be looking at playing a bit part for the national team at best. What becomes increasingly clear is that Ben Smith is a rare talent and almost certainly the natural successor to his namesake.
What was Ranger to do? Turn down a contract likely to be worth at least double what he's currently on all for the hope he might make the squad but most likely barely, if ever, play?
Montpellier have made the decision easier by their persistence. They have openly been after a Kiwi centre for some time. They chased Ma'a Nonu hard in 2011. Last year they were hopeful Benson Stanley would sign and since then, they have had their hopes pinned on Ranger.
They have become a serious force in French rugby - making the Top 14 final in 2011 and are in the quarter-finals of the Heineken Cup. When they came after Nonu and Stanley they didn't have the money to tempt them - but stability and success in the top flight have, supposedly, enabled them to present Ranger with an offer that will be life changing for him.