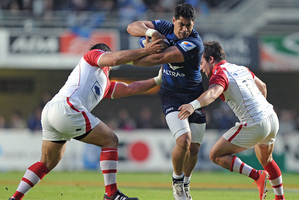 Test rugby's credibility is being stretched to breaking point, with several leading nations so loaded with 'residency' selections, theymay reach the next World Cup with the majority of their squads born outside the country they are representing.
The IRB have high hopes the next tournament will be a catalyst for rugby to capture a huge new audience and commercial backers but fears are rising that the sight of teams crammed with foreign players will reduce the World Cup to farce.
The 2011 event pushed the boundaries, withmore than 30 New Zealand-born players, excluding the All Blacks, at the tournament ,as well as significant numbers of South
Africans and Pacific Islanders representing other nations.
The indications are strong that those numbers could explode by 2015: almost a quarter of the players in this year's Six Nations were born outside the nation they are representing. Of those, 18 qualify through the residency route; they have lived in that country for three consecutive years but have no blood or heritage ties.
With significant numbers of 'foreign' players flooding into European clubs, residency selections are expected to continue to boom.
France are lining up former Wellington No 8 Alex Tulou; England have designs on former Crusader Daniel Bowden; Wales are keen on loose forward Michael Paterson; Australia will be monitoring Fijianborn Brumbies winger Henry Speight - all of whom become eligible for their 'adopted' nations this year. Ireland will no doubt pick former Blues centre-fullback Jared Payne when he's eligible next year.
England, France and Australia are shaping as the worst offenders, with Scotland, Ireland, Wales and Italy not far behind. England's initial 33-man Six Nations squad contained nine players born outside England with four - Manu Tuilagi, Dylan Hartley, Mako Vunipola and Mouritz Botha - qualifying on the basis they have lived in England for more than three years.
Scotland, Wales and Italy all have three squad members eligible through residency, while Australia's growing appetite for selecting New Zealand and Pacific Island-born players became a source of annoyance for All Black coach Steve Hansen last year. Wallabies such as Digby Ioane, Sekope Kepu and Quade Cooper qualify through residency - and it is the residency route that is causing the most concern, as it has the greatest potential to harm the credibility of test football.
Many European clubs are now specifically targeting men whose nationality is not yet committed. In England, clubs are financially rewarded for 'producing' test players, while in Ireland, any 'overseas' signing has to be sanctioned by the national body and often they are willing to help meet the costs of the new arrival if they believe they will have a test player in three years.
The governing body in France has long talked of trying to reduce the number of foreign players in the Top 14 but appears to have given up, realising that imports can bolster
the national team.
Antoine Claassens, son of former Springbok captain Wynand, will make his debut for France against England this morning, while Tulou will be eligible later this year. The bruising loose forward who struggled to make an impact in the capital behind a long queue of quality players, has been a revelation in France since he joined fast-improving Montpellier. Samoa, for whom he's also qualified, approached him to commit to them but, on the advice of French national coach Philippe St Andre, Tulou turned themdown.
There was widespread criticism on social media forums last week of Claassens' selection in both France and South Africa and a number of prominent former England internationals such as Martin Corry have been vocal in their dislike of the growing 'united nations' flavour of the England team.
New Zealand Rugby Union chief executive Steve Tew says there are no plans at this stage to campaign for a change in regulations but he admits surprise at the selection policies of somenations.
"The regulations are in place and they have been agreed through a democratic process," he says. "We will abide by them and other countries are abiding with them.Wehave our own selection policy that says you have to be living and playing in New Zealand to be eligible for the All Blacks whichmakes our position clear."
The bigger question, as Tew sees it, is how will passionate followers feel if more than half their national side is drawn from other nations, and what effect does all this 'importing' have on those 'locals' who come through development structures only to be overlooked for outsiders?
While the issue is not likely to be challenged at IRB board level in the immediate future, the eligibility theme is almost certainly going to become hard for rugby bosses to dismiss if, and surely when, some major nations field more 'foreign' players than homegrown players.
Not only are more residency selections in the pipeline, compounding the issue is the active and aggressive recruitment strategies the likes of Ireland and Scotland have to pursue offshore players with relevant heritage.
Former Crusader Sean Maitland was in the Scotland team only a few weeks after leaving New Zealand, while former Hurricanes prop Michael Bent was called up in even shorter timeby Ireland.