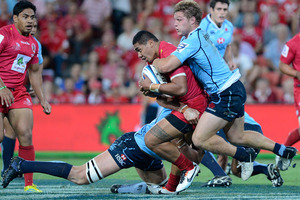 The first time he touched the ball, the Waratahs scored three points. The first time he was called on in defence, they leaked five points. The next time Israel Folau was involved in play led to an intercept try against them.
It was a difficult debut for fullback Folau, the most anticipated recruit in Australian rugby for many a year.
After a clean-out at last season's misfiring franchise, this is supposed to be a big year for the Waratahs, spearheaded by the Lomu-like dimensions of Folau. He's only 23 but a veteran of more than 90 NRL games, eight State of Origin games and eight league tests for Australia, not to mention his forgettable crossing of codes into AFL territory.
But if it was supposed to be the beginning of a blue wave breaking across Australian rugby, the Reds weren't taking it as read.
A bit of Quade Cooper sleight of hand and quick passing saw rangey winger Dominic Shipperley galloping at the retreating Waratahs and he steamed over the line, taking two defenders with him - one of them Folau. That came a few minutes after Folau had earned a penalty with his first touch of the ball, attracting defenders who went too far in trying to remove the ball from his possession at the breakdown.
But, after Shipperley's surprisingly easy try, Folau loomed up outside prop Sekope Kepu as the Waratahs mounted a comeback. Kepu went to ground. He knew he was going to pop the ball to Folau. Folau knew he was going to pop the ball to Folau. The crowd knew he was going to pop the ball to Folau. It's possible Banjo Paterson knew - and he's been dead for 70 years.
Certainly Reds centre Ben Tapuai knew, so he comfortably intercepted and bolted a long way downfield to score. It seemed a clear case of the Waratahs expecting their prized acquisition to spark their season and being too predictable by playing to him too much.
So the Waratahs, all promise and potential, were 17-3 down after 16 minutes after a Reds penalty gained when play broke down from a Waratahs raid. Yes, Folau was involved in the loss of possession.
In terms of debuts, he was overshadowed in the first half by 19-year-old, New Zealand-born Reds centre Chris Feauai-Sautia who demonstrated a fetching turn of pace and footwork. He was part of the reason for the Reds looking far more dangerous than the rather pallid unit who went nowhere against the Brumbies last week. You'd say the same about hardworking flanker Ed Quirk. Cooper also looked far more energised and full of tricks than last week, as was winger Digby Ioane.
The Waratahs weren't helped by kicker Brendan McKibbin being wayward with a couple of kicks at goal. They needed to score first in the second half and, helped by a Mike Harris penalty miss, Folau began a raid by beating two tacklers and then losing the ball backwards. But, further downfield, the Waratahs continued the momentum and an attacking pass ricocheted off a defender, first five Bernard Foley slung a long pass to the wing to run Folau in for his first try in Super Rugby.
With Foley's conversion, the Waratahs were back in the game. Their forwards began to assert themselves and winger Drew Mitchell began to cause problems for the Reds. Then another debutant, pacey replacement back Ben Volavola, skirted round Harris off a fine pass from Foley - a promising first five - and suddenly it was 17-all.
Harris nailed a 50m penalty to get the lead back and the wheels truly fell off for the Waratahs when they turned the ball over, allowed Quirk to thunder 40m when he should have passed (and should have been tackled). He found Tapuai for the deciding score.
They will do better than this, the Waratahs. Folau will play better than this and they will learn how to use him better. He has to get more involved in the game and in the grunt phases like the breakdown - where he still looks like a 'leaguie'. But when that languid form explodes into intent, you can see the class.
Reds 25 (D. Shipperley, B. Tapuai 2 tries, M. Harris 2 con, 2 pen),
Waratahs 17 (I. Folau, B. Volavola tries; B. McKibbin pen, B. Foley 2 con). Halftime: 17-3.

Play Virtual & Fantasy League
Test your tipping skills with Virtual or create your dream team with Fantasy NRL and be in to win a slice of over $7,000 in prizes.
Be part of the game and sign up now.