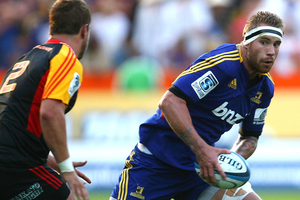 Chiefs 41
Highlanders 27
The Chiefs rolled out a rejigged team and made a massive statement about their claims for a Super 15 title repeat tonight as they downed the fancied Highlanders.
Injuries had upset the Chiefs' combinations but they have been down that route before and showed the same sort of resolve which marked their march their opening season under Dave Rennie's command.
They travelled to Dunedin and rode out a mid-match comeback from the Highlanders to see their bonus point 41-27 victory light up the scoreboards.
Ambition poured through both teams but the Chiefs showed some better teamwork and sting to outlast their initial rivals.
Tim Nanai-Williams was recast late at centre and for much of the match proved a strength as he claimed two superb individual tries with his speed and brilliant footwork.
Unwanted Blue Gareth Anscombe slipped into fullback and knocked over nine kicks from all sorts of distance and either side of the field in an imporessive debut for his new franchise.
Defence from both sides was a shade rusty but the attack and intention throughout the match was value for money for the 20,000 crowd who turned up.
Neither side managed long periods of ascendancy in the first half but they seemed to be using the same gameplan. Kicking was rare and used only in extreme defensive situations except for one Aaron Cruden punt from halfway which went dead.
That probably confirmed plans to resist kicking as the sides claimed two tries each in that spell with Highlnaders fullback Ben Smith scoring a peach to open the season.
New skipper Hosea Gear ordered a tap kick and from the adventure Smith picked an awkward inside pass off his boot tops and somehow battered his way to the line through three tackles.
Perhaps Smith was still catching his breath but the Chiefs stormed back and recast centre Tim Nanai Williams got into the clear and after a goosestep, simply gassed Smith on the outside.
The rookie midfielder made it look ridiculously easy just as Gear did near halftime when he propped off off his left foot and cruised past four defenders. It was a timely strike for the Highlanders who had looked more disjointed with some scrum moments and their lineout struggling to cope.
No doubt coach Jamie Joseph delivered some brutal halftime commands about his side's setpiece uncertainty and they looked in the zone when they emerged from the sheds.
The got to the line but no further as the Chiefs' defence dug in and the Highlanders' only profit was a Lima Sopoaga penalty.
When the Chiefs got to the other end of Dunedin Stadium they were potent. New signing Gareth Anscombe who was in top form with his goalkicking, flipped a ball to his wing as he was smashed in a tackle but that piece of skill gave Patrick Osborne a certain try.
The topsy turvy nature of the match took another twist when Kade Poki palmed off Nanai-Williams and from what looked an unpromising chance, he raced away to the tryline. That advantage did not hold and the Chiefs led into the final quarter when Asaeli Tikoirotuma strolled through a huge gap just wide of the ruck.
The Chiefs were the only side in the match after that as they eased away to an impressive victory.
Chiefs 41 (Tim Nanai-Williams 2, Patrick Osborne, Asaeli Tikoirotuma, tries; Gareth Anscombe 4 con, 5 pen)
Highlanders 27 (Ben Smith, Hosea Gear, Kade Poki tries; Lima Sopoaga 3 con, 2 pen)
Halftime: 16-14