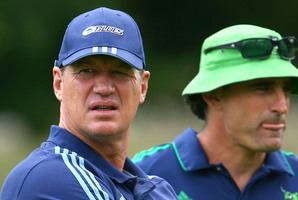 How do you think our New Zealand teams will go in this year's Super rugby competition?
Bill
I have no doubt our teams play in the toughest conference, which I know is great for fans as it produces some of the best rugby to watch, but not so good for the players and management who have to front up to their fellow countrymen eight times during round-robin play where everything is on the line. But it sets our boys up for a great shot at the title. One of the drawbacks of the Sanzar three conference system is that it is highly unlikely, but not impossible, to get three of our teams into the playoffs, which is something I have felt our NZ conference has deserved in past years. So I expect two, but wouldn't it be nice to have three teams in the playoffs and to keep that trophy here?
How will the Blues go this year?
Gary
I am really excited from what I have seen and heard so far from the Blues camp. I'm not hoping for the roller-coaster ride John Kirwan has been promoting but a steady and committed climb through pool play, really concentrating on their home games to give them a chance of a playoff spot later in the year.
The coaching staff of this franchise may be their trump card. All are top-level coaches and top-drawer blokes, who have the experiences and mana to let this young squad play and grow as men which should be seen as a success in itself. Kirwan is inspirational and his players will want to please him and play well for him and their region.
This team will need to find some early momentum so the rookies (in what many people say is your easiest year) will start to feel untouchable and build that swagger the great Blues teams of the 90s had when they dominated this competition. Like everyone, they will also need an ounce of luck with injuries and decisions, so maybe JK is right ... it will be a roller-coaster but one many people are hoping will finish at the top of the climb.
What style of play will win this year's competition?
Chris
We will see more ball-in-hand attack in 2013 with teams focusing on winning the possession. This should result in less kicking in the middle half of the field and keep the ball in play for longer, which will be great for the game and the fans. The key driver will be quick ruck ball, which the referees have ensured us will happen, creating space out wide. The rules have been tweaked to get a faster game, let's hope we get it.
Former All Black Ian Jones answers your questions on the state of rugby. Send your questions to ask.kamo@nzherald.co.nz

Play Virtual & Fantasy Super Rugby
Test your tipping skills with Virtual or create your dream team with Fantasy Super Rugby and be in to win a slice of over $10,000 in prizes.
Be part of the game and sign up now.