Form is irrelevant, France are boom-and-bust. Rational analysis is not possible, writes Gregor Paul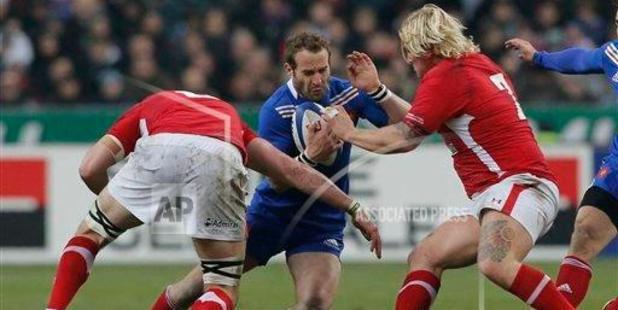 Having lost their opening two Six Nations tests to Italy and Wales, France appear to have regressed from the dizzy heights they were threatening to reach in November. But surely no one is going to be sucked in?
They will be here in June for a three-test grudge series - what with them still being a little filthy about the way the World Cup final ended - and what happened in the Six Nations will not matter. France could still be awful by June - or they could be brilliant. That is the thing to grasp - they have this extraordinary range of performance within them.
It would be entirely within France's nature to defeat championship favourites England at Twickenham next weekend and then follow up with a record defeat to Ireland. The introduction of coach Philippe St Andre after the last World Cup was supposed to put an end to France's propensity to be wildly erratic. St Andre, whose coaching teeth were cut in England, was appointed to deliver structure and discipline to underpin the Gallic flair he would coax back into the mix.
By November last year, he appeared to be bang on brief. France annihilated the Wallabies, dismantled the Pumas (something of a bogey team for them in the past) and then came from behind to subdue a rampant Samoa.
The All Blacks watched on, conscious of how good France might be by June this year when they arrive in New Zealand for a three-test series.
There was more than a hint of the old France; they were both brutal and beautiful. After enduring the bizarre mood swings of previous coach Marc Lievremont (who seemingly picked players sometimes to annoy the French media with whom he was often at war), a period of stability loomed.
But November is just a distant memory. France were outplayed by Italy in their opening Six Nations opener. The Italians mounted an impressive second half charge that saw France wilt and chief playmaker, Freddie Michalak, run for the hills.
A week later and they were tentative and short of ideas against Wales, eventually losing to a late George North try that owed more to France's lack of confidence than any creative genius on the part of the defending champions.
Almost 18 months into the job and the only consistency St Andre has brought is inconsistency.
No other side, maybe Australia, has the same spectrum of performance within them and the All Blacks need to understand that is a permanent state for France.
They haven't produced consistent form or results for the better part of a decade now. It hasn't mattered who has coached them, be it Bernard Laporte, Lievremont or St Andre, the French have fallen into the habit of surging, then collapsing.
They won the Grand Slam in April 2004, only to suffer a record defeat to the All Blacks in November that year. It was much the same in 2007 - they won the Six Nations, suffered two record defeats to the All Blacks, lost the opening game of the World Cup to Argentina and then beat the All Blacks in the quarter-final.
In 2011, they lost to Italy in the Six Nations, lost to Tonga and New Zealand in the pool rounds of the World Cup and still made the final, where they were a whisker away from winning.
It is maddening but the All Blacks should at least understand that rational analysis of France is not possible; that past performance is no indicator of future performance. Form is irrelevant, France are boom-and-bust and, while they may implode at Twickenham, that would have no bearing on their capacity to explode at Eden Park.

Play Virtual & Fantasy Super Rugby
Test your tipping skills with Virtual or create your dream team with Fantasy Super Rugby and be in to win a slice of over $10,000 in prizes.
Be part of the game and sign up now.