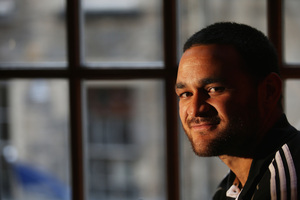 Piri Weepu reckons he has brought his A-frame and a reformed attitude for his second campaign with the Blues.
As one of the smattering of experienced players left after last year's botched season, Weepu is motivated to drive the side John Kirwan is developing for the Super 15.
"We probably did not help the younger boys as much as we should have," Weepu admitted about last season.
This time he and Rene Ranger were the only experienced backs to guide and lead the rest around the field.
Weepu rejoins the fray at halfback tomorrow when the Blues have their final trial match against the Highlanders in Queenstown.
"I am more motivated and have done a lot more outside camp to be in better nick," he said, to make sure he wasn't "20 times behind the boys".
Weepu wanted to play a much greater role than he did last season.
Coach Kirwan has leant on Weepu for more input as he searches for the keys to team unity and success before the side's opening away match on February 23 against the Hurricanes.
"Outstanding would be one word; great leadership, great guidance of the young guys, great input into what we have been doing as a team," Kirwan said of his senior halfback.
He was impressed with Weepu's contributions to the Blues since his return from All Black duty.
Lock Anthony Boric had his first full contact session yesterday since the operation to repair discs in his neck last year. He hit rucks and made tackles without any discomfort and was likely to be reintroduced to match play in a game for the development group in a fortnight.
Kirwan acknowledged that set pieces remained a challenge for the Blues, especially the scrum, with Keven Mealamu still on leave and Tony Woodcock transferring to the Highlanders.
Play Virtual & Fantasy Super Rugby
Test your tipping skills with Virtual or create your dream team with Fantasy Super Rugby and be in to win a slice of over $10,000 in prizes.
Be part of the game and sign up now.