Crusaders coach hopeful young wing will stick to treatment and get another chance.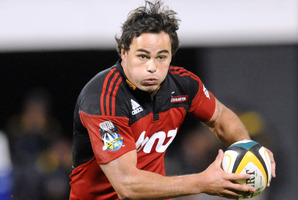 Zac Guildford could make a remarkable return to rugby with the Crusaders within the next few weeks.
Guildford, who is taking self-imposed time out from the game after a recent alcohol-related incident in which he allegedly assaulted a party-goer in Christchurch, is in the midst of a one-month's course of "intensive" treatment at an undisclosed North Island location.
It is understood Guildford has accepted he has an alcohol problem which could lead to a quicker than expected return to the field.
Crusaders coach Todd Blackadder would welcome his All Black wing back into the fold - provided certain conditions are met.
"If he sticks to getting professional help, we'd love to have him back," Blackadder said.
"It's not so much a case of misconduct for us," he added. "It's an illness and for the first time he has admitted that and is getting the right help.
"If all the other parties agreed - Zac, his representatives and helpers and the NZRU - then returning to rugby could form an important part of his rehabilitation."
If Guildford wants to return, then the NZRU would be the biggest stumbling block to a comeback, but the Crusaders hoped the national body would show compassion.
Privately, the Crusaders hope that given Guildford is seeking medical treatment, missing three pre-season games and a couple of competition matches would be seen an appropriate penalty.
Guildford is on only a one-year contract with the NZRU and will know that this is his last chance. Guildford, who has played 10 tests and scored six tries for the All Blacks, has been involved in a string of high-profile incidents over the past 18 months.
In August 2011, he broke team rules when he left the All Blacks' hotel to go out after their Bledisloe Cup victory against Australia at Eden Park.
Within weeks, he drank heavily and broke the team curfew after the All Blacks' 25-20 defeat to the Wallabies.
In November 2011, Guildford was arrested after he stormed into Trader Jacks in Rarotonga naked and allegedly punched two men. He then announced a self-imposed 12-month drinking ban, saying: "I need to sort myself out."
A year later, after being photographed drinking at a function, Guildford said he had changed his ways and now trusted himself to enjoy one or two drinks with friends.
He stood himself down from the Crusaders last month after the latest alcohol-related incident.
- APNZ, staff reporter
Play Virtual & Fantasy Super Rugby
Test your tipping skills with Virtual or create your dream team with Fantasy Super Rugby and be in to win a slice of $7,000 in prizes.
Be part of the game and sign up now.