In run up to 2016 Olympics, moves are afoot to remove XVs obligations for key players.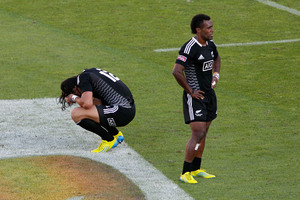 DJ Forbes' balancing act is likely to end this year. The New Zealand sevens captain has spent the past few years playing on the international sevens circuit and turning out for Counties Manukau in the ITM Cup but said if he returned to the Steelers this season it could possibly be his last.
New Zealand's sevens players are on retainer contracts and receive extra cash per tournament appearance, but there has been a push from coach Gordon Tietjens to see the players given full-time deals.
That would mean they could focus on being sevens specialists and wouldn't have to top up their earnings by playing provincial rugby.
Numerous countries have ramped up their sevens programmes ahead of the sport's maiden appearance at the Olympics at Rio de Janeiro in 2016 and the chasing pack is catching up to perennial powerhouses New Zealand and Fiji.
"If I do go back to Counties this year I'm pretty sure that it'll be my last year," Forbes said.
"Hopefully by then I'm either still in the team for sevens and have a chance at a full-time contract or hopefully by then I will have been offered one."
Forbes was injured in New Zealand's 19-14 semifinal loss to NZ sevens captain upbeat over Olympic medal chances
Kenya in Wellington on Saturday night and cut a disappointed figure as he went around Westpac Stadium on the side's celebration walk of the field after they beat Samoa 17-7 to claim third place.
The knee injury that hobbled Forbes will keep him out of this weekend's tournament in Las Vegas, which is the fifth leg of the international circuit, as New Zealand look to consolidate their comfortable lead at the top of the series standings.
England took the spoils in the final of the Wellington event with an exciting 24-19 win over surprise package Kenya.
The English were 13th on the series standings heading into the tournament and while Kenya have been consistent of late few would have picked them to be in the showpiece match.
Fiji didn't get out of pool play for the first time in the history of the circuit after two losses on Friday and Forbes said the results from the weekend showed the improvements other sides had made.
"Everyone can see the chances of winning a gold medal and you already see there's countries that have gone full-time [with contracts] since last year and we definitely don't want to be left behind.
"But in saying that we've got a lot of talent. It's just a matter of getting that core group and getting the right guys locked down for a few years just to make sure that the regulars of the team are just carrying on."
Forbes, alongside Tomasi Cama and Lote Raikabula, has been a constant in Tietjens' squads for the past few years but the trio looked off the pace at times during the tournament in Wellington.
Cama and Forbes are the wrong side of 30, while Raikabula is 29. Given the pace and power of the young guns in the sevens game they may be better served by being full-time sevens players so they aren't overworked as the Kiwis build towards Rio.
Tietjens said it was too early to write off his old guard despite New Zealand's mixed play during the weekend in Wellington.
"I think we rush into things too quickly at times because this game is pretty close and competitive now and we do get the odd criticism of, 'I think so-and-so has been there a while and it's just about time to go'," he said.
"I've got two or three guys that are 29 and 30 now and I will get that criticism, but I'm the coach that's looking at the numbers and what they're producing at training and in games. If I feel there's nobody better than those players certainly I'll still give them that opportunity.
"We've got to remember that Eric Rush was still playing for New Zealand when he was 39 and he kept himself in outstanding shape."
There's no reason why Tietjens' experienced players can't play into their mid-30s - but a full-time sevens contract would ease the pressure on their playing commitments.
- APNZ