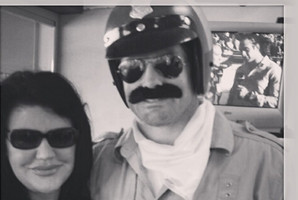 Richie McCaw is taking a six-month sabbatical from rugby but that didn't prevent him slipping into the Hertz Sevens Tournament in Wellington disguised as a police officer.
The All Blacks skipper was sprung by radio personality Polly Gillespie, who posted a photo on Instagram with the comment: "Yes Officer McCaw, I've been a very naughty girl."
There was no sight of McCaw's girlfriend, reportedly Black Sticks striker Gemma Flynn, 22.
A month ago, McCaw was pursuing his other great passion at Omarama in north Otago.
McCaw and his cousin Alex McCaw were among 30 entries in the New Zealand gliding championships at the Omarama Airfield,
McCaw celebrated his 32nd birthday on New Year's Eve, after enjoying a family Christmas in Christchurch, and had a New Year jet-boating excursion in Wanaka.
With no rugby until July, he had planned to take a two or three-month holiday away from New Zealand, "just to forget about rugby for a while".