The Six Nations begins next weekend. Chris Hewett previews yet another Southern Hemisphere player likely to feature for England - conquerors of the All Blacks - in coming weeks.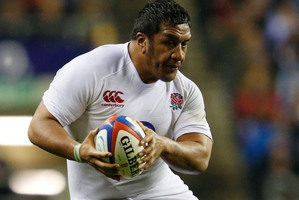 Mako Vunipola stems from Tonga, was born in New Zealand, educated in England and is likely to become a test player for the red rose.
England's first choice No1 , Alex Corbisiero of London Irish, has a knee problem and England have only one other loosehead specialist - Joe Marler of Harlequins.
Vunipola is certain to be a member of the match-day squad in the Six Nations campaign, which starts with the Calcutta Cup match against Scotland next weekend.
England forwards strategist and former loosehead, Graham Rowntree, says Vunipola has transformed himself from an old-style heavyweight scrummager into a thoroughly modern multi-tasking front-rower.
"He has a lot of strings to his bow these days. What impresses me most about Mako is his willingness to improve, his understanding of what it takes to get better."
During an apprenticeship spent largely at the Bristol club - he went to school in nearby Thornbury and spotted by academy scouts who fast-tracked him into senior rugby - Vunipola was a little too fond of eating: his father, Feao, a captain of Tonga and now coach of the Tongan under-20 team, says that at one point his son tipped the scales at 140kg.
Vunipola has shed 20kg.
"It's down to running, gym work and diet", he explains before adding, forlornly, that he misses his chocolate.
"When I first went to Saracens, who were in the top four of the Premiership at the time, I was naive in thinking that just by being with better players, I'd become a better player. That's not how it happens. That comes down to work rate, which in turn comes down to fitness."
In the early 1990s, Feao and his wife, Iesinga, a Methodist minister, were moving around. Mako was born in New Zealand. Brother Billy, 21 months younger, was born in Australia.
After spending their earliest years in Tonga they headed for Pontypool in Wales. Feao, who played in two World Cups, spent the 1998-99 season mixing it with the hard men of the valleys.
The big rugby-playing schools were falling over themselves to take his sons. Mako ended up at Millfield, Billy at Harrow and the age-group honours began to accumulate. Mako played for England under-18s a year young: no mean feat for a front-rower.
"My father would have been happy if we'd both chosen Wales," he says, acknowledging the debt of honour Feao, a hooker, felt he owed to rugby folk there. "But I wanted to play for England."
Corbisiero's current struggle for fitness, which may turn out to be a career-defining one, leaves Vunipola very close to his first test start.
"It's been an exciting time recently and I'm grateful for the opportunities I've been given, but I don't want to settle for being on the bench. I want more."
- Independent