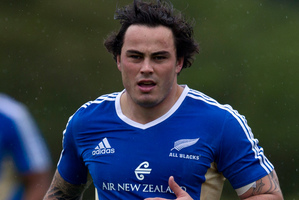 All Blacks wing Zac Guildford has voluntarily stood down from involvement with the Crusaders after a late-night incident at a residential home in Christchurch last weekend.
Guildford, 23, has admitted being involved in the incident after attending a private house party. He informed Crusaders coach Todd Blackadder during the week and chose to remove himself from the team environment while the matter is considered by the New Zealand Rugby Union (NZRU) and the Crusaders.
The All Black made national headlines after a series of alcohol-related incidents, including a bar disturbance while holidaying in Rarotonga in November 2011.
NZRU Chief Executive Steve Tew said: "We and the Crusaders were very disappointed to learn of this incident. As a result, the NZRU has initiated misconduct proceedings against Zac.
"We will be meeting with Zac and his representative in the following week to discuss the matter, and next steps. As his employer, we want to ensure that the process respects Zac's right to a fair hearing so we do not wish to comment further at this stage," Steve Tew said.
Guildford is taking time to resolve matters, including the NZRU misconduct process.