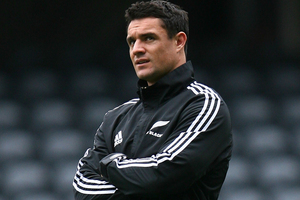 Three young rugby fanatics have been handpicked by All Blacks superstar Dan Carter to help him practice his pre-season goal-kicking tomorrow.
Carter, on holiday in Taupo, created a stir on Twitter earlier this week when he asked his 130,000 followers: "Hey guys. I'm doing the 1st week of my pre-season in Taupo but I need someone to return my kicks. Anyone keen?"
It appears many were interested.
Carter, who is fine-tuning his goalkicking before joining his Crusaders team for pre-season training later this month, quickly posted another tweet explaining that he wouldn't fly anyone to the training session on Thursday and that he would prefer an up-and-coming rugby player.
"I need some time to think how I'm going to sort this & pick someone to help me," he tweeted, with a hash tag of KicksWithDC.
Later, he asked for pictures of the volunteers and a summary of why they should be selected.
He had selected three lucky winners by 5pm last night (Tuesday).
Logan Karauria, a 12-year-old fellow first five-eight was chosen to help return Carter's goalkicks at an undisclosed Taupo park tomorrow.
Dad Jason put the Tauranga Sports Rugby Club under-12s player's name forward, saying he was an "absolute fan".
Carter replied to say, "Congrats mate you are the 3rd person to catch my kicks haha."
Today, young Logan was off to his local park to practise his goalkicking with his "jealous" mates.
"I'm really excited that I'm going to meet him," Logan said.
"He's really good at goal kicks and a good first-five."
He'll be driven to Taupo by his dad tomorrow morning.
"I think Jason is just as excited as Josh," said mum Halee.
"The whole family would go too if they could, but they're not."
Josh Cane, an under-10 rugby player who sent Carter a photograph of himself holding a trout, saying he can "catch any ball and teach you how to catch trout" was also selected, along with one other who has not been named.
The Super Rugby season starts on February 15, with matches between four of the five Australian teams only due to the Lions tour across the Tasman.
The New Zealand and South African teams start a week later, with the Crusaders not starting until March 1 due to a bye. Their first match is against the Blues.
- APNZ