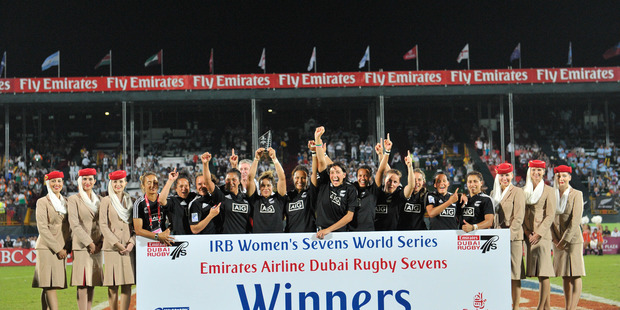 With High Performance Sport New Zealand depositing $1.6 million under the women's rugby sevens Christmas tree, it is a prime opportunity for New Zealand's best players to gear up for June's World Cup in Moscow and look to the sport's debut at the 2016 Rio de Janeiro Olympic Games.
Four Commonwealth Games gold medals means the men's side - now known for international branding purposes as the All Blacks Sevens - get $4.8 million over the Olympic campaign. The women, who have a world series starting this season, have to earn the right to more.
They've gone about it the right way, triumphing 41-0 over South Africa in the final of the opening round at Dubai on December 1. The other rounds are in Houston (February 1-2), Guangzhou (March 30-31) and Amsterdam (May 17-18). Each tournament involves 12 teams - New Zealand, Australia, Canada, England, Netherlands and the United States have automatic entry and six teams get invited via regional rankings.
New Zealand lost an extra-time final to Australia in the inaugural women's sevens World Cup in 2009 and have won the last four XVs World Cups, so their pedigree suggests they're worthy of Olympic investment.
England (as part of Britain) will also fancy their chances in Rio, having beaten the Black Ferns 3-0 at XVs in their November test series. Traditional Olympic giants such as the United States, China and Russia, as well as hosts Brazil, are expected to invest heavily towards the 2016 Olympics.
Russia is the prime mover, despite getting to train outdoors for only about five months a year. They drew with New Zealand and beat Canada, China and the Netherlands at Dubai.
Built like a female Jonah Lomu, the 1.83m, 87kg former heptathlete Navrat Khamidova was a key part of their success.
Still, New Zealand is developing its own talent. More is expected to be unveiled this weekend at the national tournament in Queenstown and Arrowtown.
Women will compete for the first time in 10 years as part of six provincial teams. The New Zealand women's coach Sean Horan is expected to attend.
Dubai's winning squad included Mystics netballers Portia Woodman and Kayla McAlister and former Black Ferns Carla Hohepa, Huriana Manuel and Linda Itunu.
There's already a touch of the hard case about them, like when Prince Charles visited a gym session in November.
The 28-year-old Itunu broke the curtseying protocol and gave the prince's grey double-breasted suit its own workout with a big, sweaty hug.