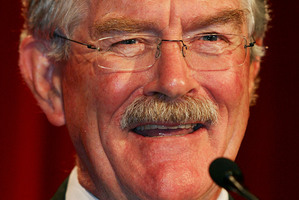 Former Wallabies coach Bob Dwyer is recovering in a Sydney hospital after suffering a heart attack.
The 72-year-old reportedly complained of chest pains on Wednesday on his farm at Bowral in the NSW Southern Highlands and was taken to hospital where he suffered a cardiac arrest.
Dwyer, who steered the Wallabies to the 1991 Rugby World Cup win, underwent surgery and was shifted to the cardiac unit at Liverpool Hospital to recuperate.
"I'm doing well. I feel fine," Dwyer told Fairfax Media on Thursday.
"I had a cardiac arrest whilst I was in the emergency ward at Bowral Hospital.
"I was on a monitor and had the doctor with me and (then) I had the arrest.
"They gave me the electrical charge straight away and I came straight back.
"Talk about being at the right place at the right time. If it had have happened at home, I would be dead."
After a stint coaching in England in the late 1990s, Dwyer returned to Australia to take charge of the NSW Waratahs and led them to their first Super Rugby semi-final in 2002.
-AAP