Relations between the All Blacks and the Wallabies worsened this year - and they could get positively toxic next season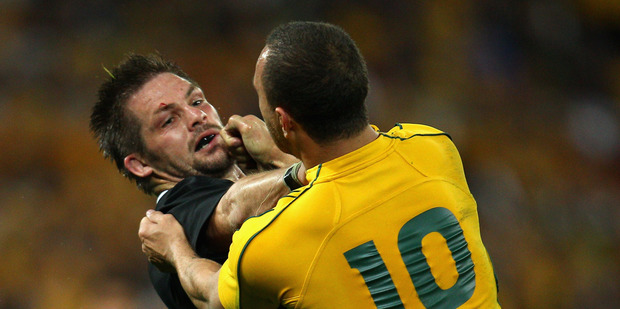 Cordial, improved, then back to strained, edgy and finally inflammatory - that's been relations between the All Blacks and Wallabies in 2012, with next year likely to see things turn hostile.
It's been a bad few years for transtasman relations. The tension started in 2007 when Robbie Deans went head-to-head with Graham Henry for the All Blacks job, the former accepting a post with Australia hours after he missed out.
That scenario always felt a bit odd and has been thrust back into the spotlight after All Black coach Steve Hansen's comments in a recent IRB-commissioned documentary.
As had always seemed inevitable, the All Blacks met the Wallabies in the 2011 World Cup semifinal. A New Zealand Rugby Union board decision four years previously to back Henry came to have huge significance: what would happen if the man they rejected beat the man they retained?
It was high drama at the time but Hansen aired a new theory on what he felt had transpired five years ago. He accused Deans of playing the role of martyr, claiming the former Crusaders coach had already accepted the Wallaby job.
It's irrelevant whether there is any truth to Hansen's comments - they have cast Deans, perennially under pressure in Australia, as at worst conniving and at best insincere and disingenuous.
This latest episode will also intensify the distrust and dislike the two sides feel for one another, after something of a truce earlier this year.
A cold war broke out in 2008 when Australia won the first clash and two Wallabies, Lote Tuqiri and Matt Dunning, goaded the All Blacks that they would win the series 4-0.
The All Blacks won the next 10 in a period that saw relations disintegrate. An invitation to share a post-match beer in the All Blacks dressing room after the 2010 test in Christchurch was initially accepted by the Wallabies until Deans learned about it and prevented his players from attending.
Things became openly hostile in late 2010 after the Wallabies' dramatic late victory in Hong Kong and sparked over-the-top celebrations - an ugly attack on Richie McCaw by Quade Cooper not helping matters. When Cooper again attacked McCaw - with a sly knee to the head the following year before the World Cup - the All Blacks went dark.
They shredded the Wallabies clinically in their World Cup semifinal. It was their best performance of the tournament, fuelled by a desire to crush a side they held in contempt.

Given the status of Cooper as New Zealand's public enemy No1 and the ascension of Hansen to the head coaching role, there were fears the relationship could plumb new depths in 2012. Hansen and Deans famously dislike each other, having held differing views on life while part of the same Canterbury coaching team.
But before the international season, Hansen was talking in conciliatory tones: "You are always going to get a little bit of an edge when you have a contest between big brother and little brother. That's basically what we've got with Australia versus New Zealand. Sometimes we see that we have been poorly treated and sometimes they see us as a spoilt sibling.
"I think some things at the World Cup did get out of hand. Quade probably didn't help himself by taking people on, but he's a good rugby player. He's like all good rugby players, he's respected by us and we respect Australian rugby.
"That's why we always want them to have a beer with us afterwards. This is a nation we went to war with and lost a lot of men together with.
"Half the country lives over there and I think Deansy is picking half those people that are available to be picked who live over there."
It was the last line - the gentle dig masked in humour - that hinted as to what lay ahead.
Hansen became the master in 2012 at making respectful statements that carried just a hint of a put-down. After the first clash of the year in Sydney - won by the All Blacks at a canter - Hansen was dutifully encouraging about the Wallaby performance only to slip in that: "I think it (defeat) will hurt them, no doubt about that. We've been reading all week about how they were going to do this and do that. They'll probably be disappointed that they didn't do this and do that."
He fired another shot following the next game when he was asked whether he thought any All Black coach would have survived had they, as Deans had done, lost 12 of their 15 clashes against the Wallabies.
"Why don't you give me a loaded gun? Why don't you just pull the trigger yourself? We all know the answer to that so I'm not even going to go there."
Possibly by choice, but more likely because he's embroiled in a fight to keep his job amid erratic performances and results, Deans has not responded. He's had to suck it up and even when Hansen launched a serious verbal assault after the 18-18 draw in Brisbane that simply couldn't be ignored, Deans allowed Australian Rugby Union chief executive John O'Neill to lead the retaliation.
Hansen vented his fury about Australian poaching of New Zealand players, driven primarily by the fact that Mike Harris, a former North Harbour and New Zealand age-grade star, had kicked 15 of the Wallabies points in that game.
"What I find frustrating is that Australia is trying to build their game and put more franchises in place but all they are doing is putting franchises in place and stealing our players," fumed Hansen. "They should get their own house in order and develop their own. There must be players there good enough. Australia has been a breeding ground for gun players for centuries."

It won't take much for relations to boil over. A further sense of how the All Blacks feel about the Wallabies came this year through Richie McCaw's autobiography, when he wrote about the incident involving Cooper in Brisbane.
"The intent of what he was trying to do pissed me off more than the execution. Shortly after that happened, I was carrying and should have passed, but I lit up and I saw Quade standing in front of me and clattered into him instead. I was disappointed in myself doing that, letting it get personal. There's no need - players like Quade get sorted. Sooner or later they get their beans."
It is possible McCaw's comments hit a nerve or maybe he is just disliked by the Wallabies as the symbol of what this All Black side stands for, but a few weeks after the book was released, the skipper was again the victim of an off-the-ball incident against Australia.
Wallaby flanker Scott Higginbotham stamped on, then kneed, then head-butted McCaw, earning a four-week suspension after the incident was missed by referee Craig Joubert.
These ugly skirmishes have become the norm - illustrative of how the rivalry is no longer kept in check by mutual respect. The All Blacks probe verbally, the Wallabies respond physically and there appears little or no hope of relations improving in 2013, given the way this year has ended.
The relationship is broken and only a change of personnel or in the balance of power is likely to fix it. There is too much baggage and history between Deans and Hansen. Their mutual dislike will never end and will permeate through their respective camps.
If Deans retain his post beyond this year, the only hope of a thaw lies with Australia winning more. Is it any wonder they target McCaw given that he has presided over the most successful All Black period in the Bledisloe Cup's professional history?
Feelings of inadequacy and frustration must be rife within a Wallaby camp that has managed only three victories against the All Blacks since 2008: only won four tests in the last 25 and not held the trophy since 2002.