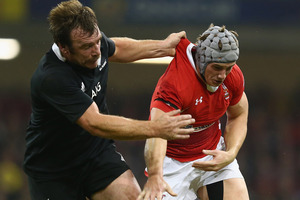 Wales assistant coach Rob Howley has launched a scathing attack on New Zealand hooker Andrew Hore following his challenge on Bradley Davies in the All Blacks' 33-10 win in Cardiff last Sunday.
Davies was taken to hospital after being struck from behind in the second minute of the game by Hore.
He was subsequently cited by match commissioner Mike Rafter and will face a disciplinary hearing this week and Howley is hoping for a lengthy ban.
"What Hore did has got no place on a rugby field, as far as I am concerned,'' Howley said.
"It was an absolute disgrace. He has been cited, and I am sure it won't be taken too lightly.
"Situations and incidents like that have no place on the rugby field, and it had a huge impact on the game.''
All Blacks: Hore gets cheap discount
All Blacks coach Steve Hansen, who is resigned to losing one of his most experienced players for Sunday's England test, was appealing for calm in the Hore storm.
"That is what happens every time we come up here. I think they think we are thugs or something but we don't play differently to anyone else," Hansen said. "I think we have shown plenty of times over the last 12 months that we are a disciplined side. If you look at the incidents that have surrounded Richie we have not jumped in and made it a big scene.
"We pride ourselves on playing good rugby and yes we are physical and we don't take any backward steps - and we don't expect our opposition to do that either - but we don't go out there to do things [foul play] intentionally."
A final word on Hore's act - new wide angle footage from the BBC has provided some context to his moment of madness only 40 seconds into the game at Millennium Stadium.
Hore was chasing a kick and had his progress blocked by Davies, who looked behind him twice and changed direction three times in order to block the All Black.
Read more:
British media react to Hore hit
Chris Rattue: Hore shows All Blacks not above thuggery
Hore hit reinforces thugs image
- AFP/APNZ