Province's bulging trophy cabinets are testament to hard work across a number of codes, writes Andrew Alderson.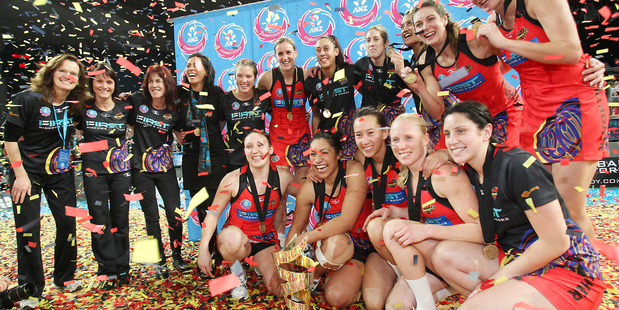 The Halberg Awards don't celebrate 'province of the year' but, if such a prize was dished out for 2012, there would be a clear winner.
Waikato can place rugby's Ranfurly Shield and Super titles, cricket's Plunket Shield, netball's ANZ Championship trophy and badminton's Wisden Cup on their hypothetical mantelpiece.
Add Lake Karapiro-based Rowing New Zealand's success at the Olympic Games and the announcement the country's best cyclists will soon train at the $28.5 million velodrome being built in Cambridge and it indicates Waikato sport has never been stronger.
There have been past glories such as the Ranfurly Shield victory over Auckland in 1993 to end that record eight-year, 61-defence reign; the 1992 NPC title; the National Bank Cup netball victories of 2005 and 2006; and Northern Districts' five first-class cricket titles of the last 20 years (with Waikato a key provincial component and Seddon Park the ND home). However, before 2010 Waikato had last won the national badminton crown in 1937 and had never won a Super Rugby title until the Chiefs' triumph in August.
The 2012 vintage is new territory.
Sport Waikato chief executive Matthew Cooper intends such feats to be the start of a dynasty. The former All Black believes this year's achievements will only fuel current initiatives to produce better Waikato sportspeople.
"A number of influential business people are prepared to challenge local authorities to prioritise sport. A successful environment is evolving as a result. We even won rugby's Roller Mills under-13 title [for the first time in 21 years] in Auckland," Cooper laughs.
"We also need to acknowledge the impact of the Kingitanga movement and four key iwi who have bought into the legacy we want. Their involvement brings a sense of belonging to the province. I wouldn't underestimate how important that was for the Chiefs and we saw them pay tribute with their unique haka after the Super Rugby final. Such passion epitomised the way the team played; it helped create a real soul."
Sport Waikato was founded in 1986 to cover the area from Coromandel to Turangi and Waihi to Kawhia. It includes a population estimated at almost 400,000 people. A recent focus for Cooper, his 70-strong team and the army of volunteers has been convincing late secondary and early tertiary students to stick with sport. If they do that, he believes any form of sustainability crisis will be thwarted.
"Addressing secondary schools' participation and linking school leavers with clubs is a social challenge. We need to keep finding pathways for those students who love their sport but aren't going to play for New Zealand. We want lifelong lovers of sport because that filters back down when that generation becomes parents.
"Sure, you need good talent identification for your best athletes but I don't believe in putting too much emphasis on wide-ranging youth academy structures. Sometimes we set our age bracket too low (for such endeavours)."
Waikato has also become attractive to Olympians with the high performance centres for rowing and cycling anchored in the province.
"Athletes know if they base themselves here they're only about 100 minutes from Auckland International Airport and there is an excellent standard of living plus a great tertiary education system," Cooper says.
"Having a centralised environment makes a lot of sense with access to fellow high performance athletes, coaches and support services. Triathlon and canoe racing have also expressed an interest in being nearby."

Veteran broadcaster Kevin Hart has also marvelled at Waikato's fortunes this year. Hart commentated on cricket, rugby and the odd netball match in the region for more than 30 years but can't remember such dominance.
"Interestingly, the Chiefs' success coincided with the return of three men who had originally come from the Waikato. Assistant coach Wayne Smith grew up in Putaruru and played in Waikato age group sides before moving to Canterbury to become an All Black. He was an impressive influence on this year's side. He just lives the whole experience.
"Match that with Waikato veterans like (skills coach) Andrew Strawbridge and (forwards coach) Tom Coventry and it made a formidable combination. Head coach Dave Rennie fitted right in too with a bit of a country bumpkin persona that the players loved. The late radio commentator Graeme Moody used to tell me he couldn't believe Wellington ever let Rennie go (as provincial coach). I also think, despite the criticism he took at times, that (former coach and now All Blacks assistant) Ian Foster laid some of the foundations.
"With the netball, Noeline (coach Taurua) might seem an enigma to those outside the Waikato-Bay of Plenty region but she's sure got the know-how. The players absolutely love her. They've got an experienced team core but local girl Laura Langman has been a star; a gutsy, country girl who leads from the front. Waikato people have always been old-fashioned and parochial and they love supporting people like her.
"On the cricket front (Northern Districts chief executive) David Cooper deserves a lot of credit as does (operations manager) Pat Malcon and (coach to hundreds of promising ND age group players) Alan Whimp. They've laid the foundation for success over several seasons which is a credit, considering the area the province covers."
The only performance Hart's not quite convinced about was the 46-10 Ranfurly Shield win over Taranaki: "That was against any sort of form in the ITM Cup. It made the season look all right but they were facing relegation to that point."