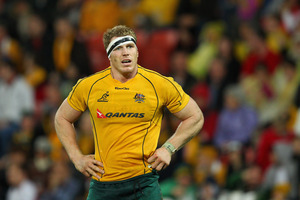 Wallabies coach Robbie Deans remains hopeful of getting champion flanker David Pocock on the paddock for the final game of the Wallabies' European tour against Wales in Cardiff next weekend.
Pocock has been struggling with a calf strain which has delayed his long-awaited comeback. The No7 was expected to return in the second test of the tour against England at Twickenham but suffered a setback training the week before.
Deans says it's so far so good for Pocock who hasn't played since he suffered knee ligament damage in the Wallabies' opening Bledisloe Cup match with New Zealand in August.
"He's been running this week and hopefully he'll be available to us next week," Deans said.
"We're just being precautionary and I guess we've got the luxury of being able to do that. We've got Hoops (Michael Hooper) and Gilly (Liam Gill) and they're both fully fit and so we see no reason to push David."
The Wallabies coach suspects if they didn't have so much cover in the No7 spot, Pocock could have played in the third game of the tour against Italy. "I suspect if pressed he could have played this week, yes, but if he's not 100 (per cent), you won't see him in Cardiff," said Deans.
Being so close to making his return and having a late setback has been tough on the ultra-competitive Pocock but Deans said the flanker has handled himself with distinction and put the team first on the tour.
"It's not an easy role to play for him. Generally when he's been fit he's played, but he's been great around the group and has been helping a lot with our preparation," he said.
In Pocock's absence, Michael Hooper has been outstanding with the NSW Waratahs recruit picking up the man-of-the-match award in Australia's 20-14 win over England.
Meanwhile, the Wallabies have been busily mounting a case for reserve lock Rob Simmons, whose appeal against the extraordinary eight-week ban he copped for a lifting tackle against France will be heard in Bristol on Tuesday.
While one lock is awaiting judicial proceedings, another is arguing that more referees are needed to police the game. Wallabies captain Nathan Sharpe says rugby should look at introducing two referees to help sort out problem areas such as scrums and the breakdown.
Sharpe believes an extra on-field official could help clean the game up: "I don't know how you'd do it. I haven't got the exact answers but it would be great to have someone to look at the intricate parts of the game around breakdowns and scrummaging."
- AAP