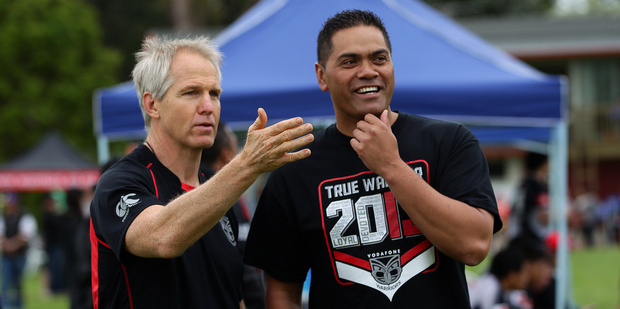 Matthew Elliott dropped an early bombshell as Warriors coach when he named the unheralded Ricky Henry as one of his two assistants.
The 34-year-old former Warriors and South Sydney reserve grader has been in the club's coaching development system since 2008 and this year took charge of the Vulcans, who play in the New South Wales Cup. His CV included coaching the national under-18s, and a clutch of try-scoring seasons as an attack minded centre in the now-defunct Bartercard Cup. By NRL standards though, this placed him as an unknown and he didn't rate a mention from the pundits when they speculated on Elliott's assistant options.
But Elliott, the former Penrith and Canberra boss, struck an instant rapport with Henry and the Herald discovered a buoyant young coach with no intention of taking a back seat in the new Warriors coaching team.

Did you have a league childhood?
Yes. I grew up in Manurewa and played for the Marlins pretty much my whole junior career until I was 14, when we moved to Palmerston North. My parents loved the game but dad also loved rugby - I think I got my middle name (Allan) from a rugby player.
What is your heritage?
Maori on both sides. My mum is from Omahu near Hastings and dad is from up north - Okaihau.
Childhood hero?
(Former Kiwi halfback) Clayton Friend. He was someone I looked up to ... a small guy, with tenacity, who punched above his weight.
What were the highlights of your playing career?
Playing for the Junior Kiwis and New Zealand A. Being part of the first New Zealand Maori team to beat Great Britain. Pulling on the black jersey was the highlight. There was talk of me going into the Kiwis straight out of the Bartercard Cup but Clinton Toopi and a few others came along.
Low point?
I wish I knew what I do now when I was younger - it would have made me a much better player. I would have taken the chances I had - but I didn't really understand what I had at the time. I use that now to help engage the young guys coming through.
If you weren't a league coach, what would you be?
This is the first time I've been a fulltime coach ... for the past eight years I have led a division of 300 people at a telecommunications firm. I had 12 people reporting directly to me. I learned a lot of my techniques there - leading people is more inspiring than managing them.
Matthew Elliott instantly clicked with you and praised your skills - what are your strengths and are you confident about playing an important part?
I am very optimistic. I connect with a lot of players - I think that is a strength of mine. I'm still an apprentice but I am up to this challenge. I'll be putting my foot down, playing my part.
You're not just here to put the cones out ...
I wouldn't have taken this on if that was the case.
Do you have a coach guru?
Bernie Perenara at Marist-Richmond is someone I took a lot of knowledge from as a player, and I started understanding the game a lot more talking to him. We still talk and I get his views on things, whether they are right or wrong. Like everyone he doesn't have all the answers, but it is good to have someone as a sounding board.
Manly forward Joe Galuvao was a teammate and contemporary of yours - you aren't much older than a lot of these Warriors guys ...
Joey has got better as he's got older. He was a fullback and centre when we played. He's a top bloke, who has worked hard for what he has got. I have played alongside Jerome Ropati, played with and against Simon Mannering, and against Ben Matulino, Sam Rapira, Manu Vatuvei, Russell Packer, Alehana Mara. Hey, they were better players than me.
Your hobbies?
I love playing basketball - anything to do with sport. I enjoy reading, listening to music ...
What do you read?
Biographies - I like reading about coaches and their experiences, what players have done, plus trilogies, etc.
Is there one thing you would like to change in league?
Not really. I love what the game can do for you as a person. It builds character, discipline, teaches you things about yourself. I initially got into coaching to give something back because the game had given me so much. I'd like to keep those values.