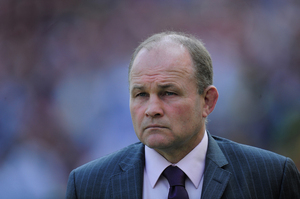 Sir Graham Henry earned a considerable consultancy fee this year for stating the bleeding obvious: if Argentina were to challenge in the Rugby Championship, they would need to score more tries.
This hardly felt like rocket science or an observation beyond the realms of any casual armchair observer, yet it wouldn't be bad business on the part of the Scottish Rugby Union if they were to fly Henry over to repeat his sage advice.
Over the past few years the Scots have made the Pumas look like the great entertainers of world rugby. Nobody does dour better than Scotland and it seems a long, long time since Andy Irvine was setting the world alight with his swashbuckling running from fullback.
Creativity has been the missing piece, or the biggest missing piece, of the Scottish offering in the past decade. They haven't had a touch of genius since Gregor Townsend was in his prime in the mid-90s.
Rugby needs beauty as much as it needs the beast and however apparent it might be that Scotland need to do more with the ball, that point just isn't getting through.
The picture is a little clouded by the fact that the Scots have enjoyed a handful of famous victories in the past few years against highly ranked opponents. Since 2009 they have beaten Australia twice and South Africa - yet secured all three victories without scoring a try.
Despite what the rugby fascists of the Southern Hemisphere believe, it's not that victories without tries are somehow less noble or valid, it's simply an inescapable truth that it is harder to consistently win with penalties and drop goals as your only methods of scoring.
It's this point that has been troubling the Scots all week.
When coach Andy Robinson was asked whether the Scots could beat the All Blacks with a grim, grinding effort, he replied: "I think you have to look at the way you play the game and you have to play it in different ways. The way the attrition [previous games] occurred, it was in the last 15 minutes. At the start of those games... Scotland moved the ball. We have got to be able to attack the space, we have got to be accurate."
But Scotland learned when they last played the All Blacks in 2010 that moving the ball comes with risks. The Scots were blown away in the first 20 minutes after conceding four tries that all came from mistakes they made.
Robinson is adamant that it can't be a case of once bitten twice shy; he doesn't want his side to clam up, but they cannot be frivolous.
"We have got to be able to absorb the errors we make," says Robinson.