Exciting but risky player looks promising as a potential game changer.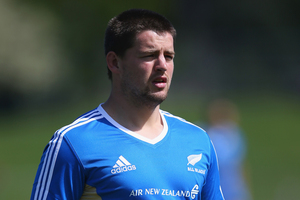 First impressions can be lasting ones and there are three that stick in the mind since I've been covering sport at the New Zealand Herald.
One came at Carlaw Park, when Tawera Nikau played his first game for Otahuhu. One of the Herald's Waikato contributors wrote a small piece announcing Nikau's move to the famous Auckland league club, but most of us were none the wiser apart from noting an interesting name. Just a few touches heralded that a new star had arrived as Nikau unveiled his ball playing ability to a smattering of people at the dilapidated ground.
Another occurred at Eden Park, the first time I clapped eyes on Sione Lauaki. The memory says he was much leaner than the gigantic figure which came to elicit such hope and disappointment. Lauaki is the rugby world beater who never was. Perhaps the illness revealed this year affected his fitness all along.
By far the most impressive first impression, though, was delivered by Keven Mealamu, again at Eden Park, in a late 1990s game for Auckland where this Atom Ant of a tight forward zoomed around like a pinball on a bowling green.
There had never been a front rower who could accelerate that quickly.
You assumed, however, that hooker Mealamu was too small for the All Blacks' tight five. Mealamu thought otherwise. Having been farmed out by the Blues to the Chiefs, Mealamu made it clear via his humble manner - during a Herald interview in Hamilton - he had no intention of taking up Samoa's offer of a test career.
As it turned out, the sceptics among us were about 100 All Black tests wrong, and happily so. Mealamu had to gain bulk, of course, and modified his game a touch, but what a career it has been.
There is a modern equivalent named Dane Coles, the Hurricanes' hooker who is either a test star or trivia quiz sensation in the making. The 25-year-old Coles was indeed a bolter, a shock selection, because his way of playing hardly whispers, let alone screams, test front rower.
For starters, Coles is a little small by top test standards - he looks half the size of Tatafu Polata-Nau, and that's before you take the Aussie hooker's hair into account.
Coles looks as though he could fit in Bismarck du Plessis' pocket.
Added to that, top test rugby involves brutal trench warfare whereas the Coles' calling card is left in the open - he was even used as a loose forward by Wellington during a match this year.
To carry on the first impressions theme, a colleague who covered Coles' NPC debut reckoned he burst out laughing when a little baby-faced hooker ran on the field as a replacement against Otago in 2007.
Two tries and a dynamic performance later, the laughter had subsided. Hika Elliot, the Hawkes Bay tornado who blows hot and cold, was formerly the flamboyant hooker in waiting. His non-selection for this European tour is a slap-down, because with Mealamu and Andrew Hore hitting the retirement zone, this should have been Elliot's big moment as Steve Hansen begins to build his World Cup squad.
Instead the All Blacks have plumped for Coles, a really exciting although risky option. It is hard to remember a hooker who has ever shown such open field verve.
The great Sean Fitzpatrick may have made a late-career name on the flanks, but the legendary Fitzy tended to rumble along in straight lines.
Coles is a whole new ball game, with an instinct for attack, popping up all over the place, running at angles, with speed and clever hands. There is an impish and skilful devilment to Coles that marks him as a potential game changer.
He may be asked to, or forced to, redesign his game for the test arena. But let's hope he remains the essential Dane Coles, because all sport needs mavericks.
If it works out, Coles has a cult hero future. Test demands could prove beyond him but then again, more than a few of us said that about the mighty Mealamu.