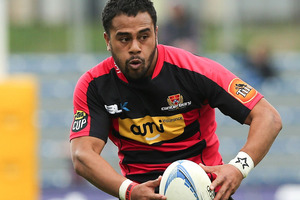 Telusa Veainu of Canterbury makes a break. Photo / Getty Images.
Canterbury 56
Northland 11
Hot favourites Canterbury maintained their charge towards the number one seeding in the playoffs with a 56-11 over Northland.
About the only doubt hanging over the ITM Cup match in Whangarei was whether Canterbury would score the four try bonus point, after Northland kept them pinned on defence for a period in the second half.
But prop Wyatt Crockett sorted that issue out in the 70th minute and Canterbury then hit the accelerator to record another big victory, after smashing Southland previously.
The first half unfolded as per the form book, with Canterbury setting up a winning position by rattling on three tries in taking a 22 - 6 lead.
They had gone on the attack from the outset and scored early when wing Telusa Veainu was given an easy run to the line. Poor Northland defence in retreat presented George Whitelock with Canterbury's second, and a slick Canterbury backline move met little resistance as fullback Johnny McNicholl kept his try scoring roll on the boil.
Robbie Fruean opened the second half with a long break but his opposite Rene Ranger returned the compliment by brushing past a high, grasping Fruean tackle to score Northland's first try in the 42nd minute.
Burly halfback Samisoni Fisilau was in the thick of the action as Northland pressured Canterbury forcing them to make average second half clearing kicks. But Northland wrecked a golden chance to get within striking distance by making a mess of a lineout near the Canterbury goal line and minutes later prop Ross Wright lost the ball over the goal line.
Canterbury 56 (T. Veainu, G. Whitelock, J. McNicholl, W. Crockett, A. Whitelock, W. Heinz, C. Taylor tries; T. Taylor 5 con, 3 pen; T. Bleyendaal con) Northland 11 (R. Ranger try; A. Moeke 2 pen). Halftime: 22 - 6
- APNZ